TEKNIQ is a Three-in-One Camera Bag That Lets You Decide What You Need To Carry
A new startup company, TEKNIQ Photo, believes that you are carrying around too many camera bags and that they have the perfect solution. TEKNIQ is a modular camera bag that is designed to act as three in one – a backpack, a sling, and a messenger. The project itself has launched on KickStarter, where the company is seeking $50,000 to proceed with manufacturing.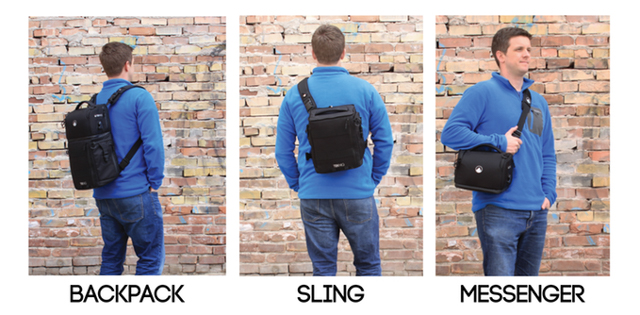 The TEKNIQ camera bag is a simple, yet smart, design. Two bags are included with the kit – a small messenger sized bag and a medium-sized bag that could be used as a simple sling. The two bags can then be zipped together to create a large travel bag when needed; the company notes that the zipper being used is a "high-grade weight bearing zipper", which is supposed to help everything stay nice and snug when attached. Two straps are included that can easily be removed and added when needed.
The bag itself is made up of lightweight rip-stop nylon to help protect your gear and the aforementioned straps also have waterproofing rubber. The included bag straps are made of a material "similar to seat belt material and will last for years to come". Even the release buckles on the straps have added rubber to prevent them from slipping out. Coming in at a total of 2.7 lbs, the bag isn't very heavy, and when separated becomes a 1 lb. messenger bag and a 1.7 lb. sling bag.
TEKNIQ Photo touts the ability to shape your bag depending on what you need in a given scenario. When fully assembled, the entire backpack is 10 inches x 7 inches x 19.5 inches. The small messenger bag can carry a DSLR, battery charger, and spare lens. The sling bag can carry a DSLR, battery charger, multiple lenses (including a telephoto), a flash unit, and your cell phone. Once the two bags are combined, there is additional room to fit more gear or items you may need on your adventure.
Other features of the bag include a lens cap clip to prevent you from losing yet another one, a rain jacket for when the skies start pouring, and a nifty tripod holder. The bag also features a padded tablet pocket (and other hideaway spots) when you need your electronics on the go.
If interested, you can pre-order your TEKNIQ bag and support the project for $179 via the Early Bird Special; after that, the bag will cost $199 on KickStarter and $249 at retail. If you want to help support the project, but don't have all the cash, for $10 you can receive a lens cap clip for your existing bag. Be sure to check out the TEKNIQ KickStarter page for more information – Shipping begins this September.