Lumy Arrives on Apple Watch to Put Golden Hour Reminders On Your Wrist
Last September, we featured Lumy, an elegant iPhone app that's designed to help photographers track golden hour and other times of the day with ideal natural light. Today, the company released an update that brings the app to the new Apple Watch, allowing photographers to be reminded of certain lighting conditions with notifications on their wrist.

The app will show you the exact times for morning magic hour, sunrise, evening magic hour, and sunset for your specific location. A quick glance at your wrist will tell you what you need to know. Tapping one of the times will bring up a countdown and current weather conditions: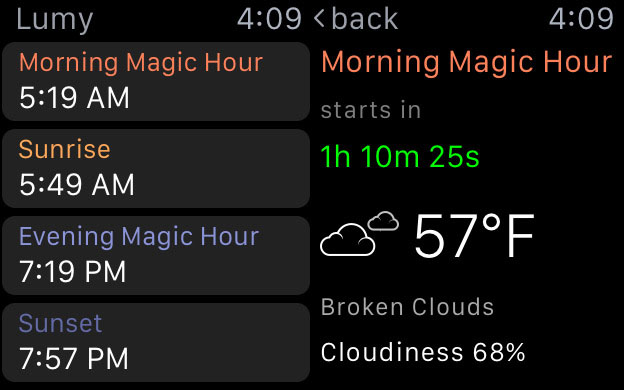 You can enable and disable notifications depending on whether you'd like alerts while you're out on a shoot.
An at-a-glance diagram will even show you the sun's current position in the sky.
When paired with the Lumy app for the iPhone and iPad, the Lumy system can be an easy and elegant way for photographers to plan out their shoots around when lighting conditions will be best.
Lumy for Apple Watch is available now through the Apple App Store for the price of $2. You can also find more info about Lumy over on its website.