Flickr Launches New Design and Features, Now Has 112M Members
Flickr today officially launched a major redesign of its service across all platforms and rolled out some powerful new features that improve the viewing, organizing, and searching of photos and videos.

Visit the Flickr website today, and you'll find that the site now has a clean new design throughout many areas of the service.
Flickr is launching new Uploadr applications for Mac and Windows users who wish to easily upload photographs from their desktops. The mobile app also has a new Auto-Uploadr that can help automatically upload your mobile shots to the service for storage and sharing. Visit the Flickr upload page to find the download for your operating system.
The powerful new search page that Flickr has been testing is now official. You can now search for items, places, date, holiday, location, color, size, and orientation.
Flickr says the system is smarter now and will better understand what you're actually trying to find. "Look for photos of the London Eye to find the giant Ferris wheel and you'll no longer find countless photos of eyes taken in London," the company writes.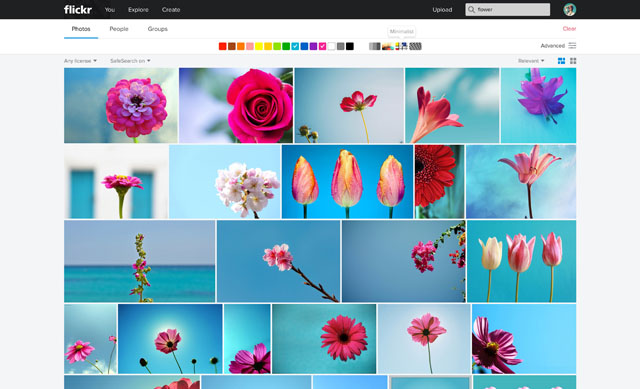 The photo browsing system on both desktop and mobile now offer a new categorization feature called "Magic View" that sorts your photos by category (e.g. landscapes, animals, black and white). It uses advanced image recognition technology to recognize attributes of your photos in order to help make navigating through them faster and easier. You can also sort by date to quickly jump through time.
In its announcement today, Flickr revealed that it now has over 112 million registered users who have collectively uploaded over 11 billion photos.