Immortalizing Evander 'The Real Deal' Holyfield with a Wet Plate Portrait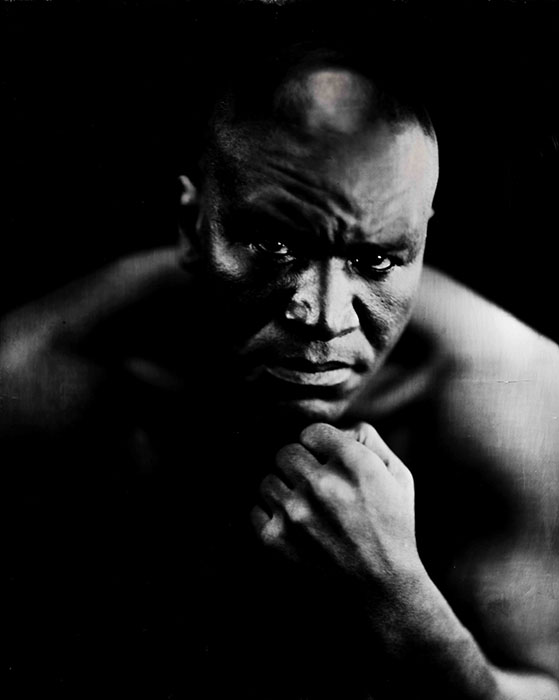 I get a call on Saturday, February 28th, 2015, telling me "The Champ can give you an hour if you can pick him up at the hotel in 10 minutes". "I'll be there in 8," I say to the person on the phone.
This "Champ" they are referring to is none other than Evander Holyfield, 4-time heavyweight champion of the world, and I am being offered an opportunity of a lifetime.

You can imagine how big of a surprise this would be for me since I never even owned a camera before 2012 or even considered myself a photographer. You see, I made my first ever wet plate on October 4th, 2012 with no previous photographic experience whatsoever.
I started my wet plate journey by asking someone about an image that I loved online and hearing that it was a wet plate. There was something about the image that kept calling out to me and I knew that I had to give it a try.
So, jumping forward 2 years, here I am, needing to capture one of the most iconic sports figures in this history of mankind in my beloved process that dates back to 1848. A tall order also taking into account that I would only have his presence for an hour — how was I going to pull this off?
I called my apprentice Greg Frank and told him to race to our makeshift studio and turn on the heat, clean some glass and get our chemicals ready. "Holyfield is en route".
It was a real joy speaking with Evander as I took him back and forth to my studio. I explained to him that millions and millions of conventional film images and digital images have been taken of you, but never a wet plate. The images that I make today consist of pure silver on glass and they will last for 1,000 years if not broken.
I also explained that a wet plate captures images at the nano level. This means the photos that I was about to take of him may be the highest resolution images that have ever been taken of him in his life.
I safely got the Champ to my studio and we immediately began to make plates together. There is always a challenge with the sitter because my exposure times are 10 seconds in length, which meant that Mr. Holyfield would need to hold perfectly still without blinking during that time. I quickly found out that this was not a concern at all for his level of concentration and discipline. In fact, I cannot remember somebody holding so still; he was doing everything I needed to make the best image possible.
The entire hour in studio is kind of a blur to be honest, it usually takes me 20-30 minutes to make each wet plate under normal studio conditions but we were able to make 5 plates together in an hour, two of which were large 8×10 pieces of glass. We finished up our time together and I drove him back to his hotel and will probably be the last time I see him.
What is left is the work that we did together in that fateful hour. The glass plates will remain long after we are both gone and I find reassurance in that fact, and I feel he did also.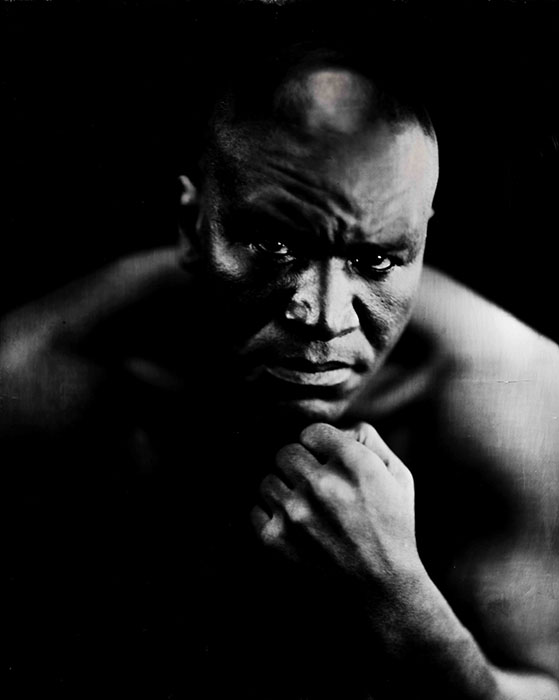 ---
About the author: Shane Balkowitsch is a wet plate photographer and the founder of Nostalgic Glass, a wet plate photography studio located in Bismarck, North Dakota. He is fascinated with the human condition and therefore focuses strictly on the world of portraiture. You can view a gallery showing his progression as a wet plate photographer on his website here. His images are also available for viewing on Zenfolio.
---
Image credits: Wet plate photographs by Shane Balkowitsch, behind-the-scenes photos by Mike LaLonde of Bismarck