Testing the Yongnuo 50mm f/1.8 with Nightscape Photography
February has brought back the galactic core of the Milky Way into the sky. It is now rising in the east just before sunrise. Each week it will rise a little bit earlier in the night.
I have a trip planned for this spring and have been thinking about some of the shots I want to do. One of them is one where I think a lens longer than the 24mm might be useful to really bring some mountains and the Milky Way together.

I have been looking at possible lens options I might use just for this one shot. 35mm f/1.4 lenses are popular but I was concerned that it might not be long enough, especially since I already have the 24mm). I have seen that Samyang makes a very good and inexpensive
85mm f/1.4
lens but I was thinking that might be too long.
That brings us to 50mm. It might be a Goldilocks focal length and be just right.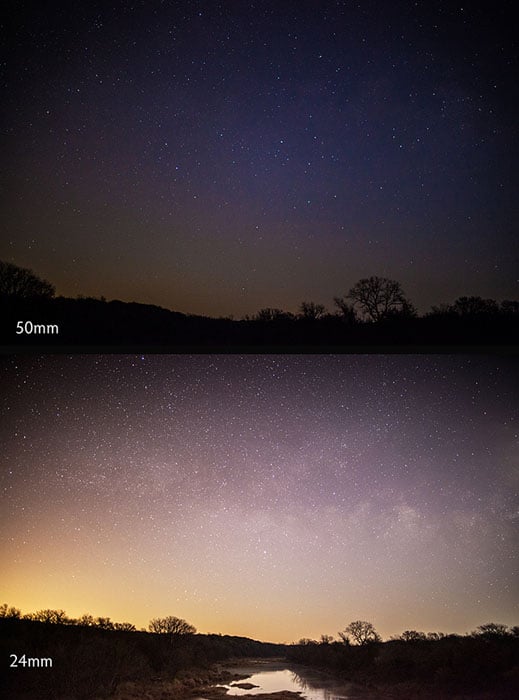 A buddy of mine has the Canon 50mm f/1.8 and I have used it in the field, but knew it was difficult to focus manually and had coma. The reviews of other 50mm lenses made it seem they all suffer coma.
I was not necessarily keen on buying a lens I might only use a few times. In regular landscape photography I never really have a use for a 50mm. Give me my 17-40mm as my only lens and I am happy, as it is very rare I use a focal length over 40mm.
When it comes to nightscape photography I have found Samyang lenses to be fantastic lenses and also incredibly reasonable in price. For example their awesome 14mm can often be had under $300!
I had seen they were producing a 50mm f/1.4, but it was priced at $400, which is also the price of the Canon 50mm f/1.4.
I was sure both lenses would be pretty good for my needs, but both were more than I wanted to spend for a lens I do not have a great deal of use for. So when I saw that Yongnuo was making a 50mm f/1.8 lens in a Canon EF mount and it was going to be under $100 I became interested.
I read a few initial reviews of the lens that seemed very positive for sharpness. Then I saw that Amazon was stocking and selling it for $56 and I decided to give it a try (renting a lens like the Canon 50mm f/1.4 would have cost that much for a week). The lens came in last week and I put it to use in the field over the weekend.
This is a few days before the new moon, meaning that the quarter moon was in the east and really right in the Milky Way. Not the best conditions for Milky Way photography but it turned out to be pretty good testing conditions.
I drove down south of Fort Worth to the Brazos River. At about an hour away from the city you can see the Milky Way, but by no means is it the dark sky of west Texas.
I set up overlooking the river and put the Yongnuo to test on my full frame Canon 5D Mark II. I started with ISO 6400 and shot only wide open at f/1.8 (like I always do at night). The shutter speed was usually about 8 seconds. I use 450-Rule with my night images so by that you should be able to do 9 seconds before star trails with a 50mm (That is 450/50=9. I rounded down). I had my buddies Canon 50mm f/1.8 to test against it.
So what was it like?
First off you notice the design and build of the Yongnuo is very similar to the Canon. Both are plastic with a similar design. One could easily mistake one for the other.
It has a plastic mount, but it fits on the camera well. If you use the auto focus it has a similar whine to the Canon. If you manual focus you will find that it has a very short range of movement. In other words it takes so little to go from close focus to infinity that it is very difficult to use manual focus, especially at night. It does not have the full time manual focus, so you have to turn off AF and then the focus is very loose.
My normal night focus tactic is to use a big flashlight to light up a distant tree and then use live view. With a lens like Samyang 24mm f/1.4 it is easy. It has a long, smooth focus. With the Yongnuo it is very tough as even a slight movement drastically changes focus. It was a slow and exacting time to focus. Then be careful not to bump the camera or lens (as it is loose in MF mode).
I thought I did ok, but I still found there was a good 25% of the time my focus seemed slightly off when reviewing images. Of course, the Canon 50mm f/1.8 is no different there. That difficulty of manual focus was the biggest issue to me.
I framed up various images, such as the river and Milky Way, the Big Dipper, the Milky Way by itself, and even the moon. It was the moon that found the other big flaw with the Yongnuo lens: lens-flare.
Putting the moon off center made for some wild flare. It did not happen when centered or in the corner but off center it was a big ring. See the square of four images and see how the Canon compared. It has a little flare but nothing like this. I can just presume Canon uses better coatings and all on their lenses.
Now my normal nightscape images avoid the moon even being in the sky so how does it do without the moon? Without the moon, the result is pretty similar to the Canon. One thing I do notice is the Yongnuo seems like it is slightly wider of a view than the Canon. Presuming the Canon is a true 50mm this seems like it might really be a 48mm. That does not really make a difference to me, but was something I noticed when doing some image comparison.
It also has coma (stars with wings in the corner of an image). Overall, it has similar coma to the Canon although it varied from image to image. See the image of the stars with wings. This is a crop of just the very corner of an image so you can get an idea of what it is.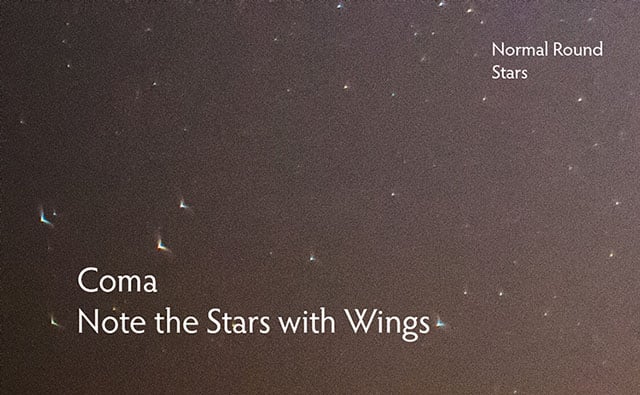 There were times the Canon seemed a bight brighter and more stars in the image, yet others the Yongnuo did-even with the same settings. So overall both score pretty similar there.
After just one night out in the field with it I can say it will work. It was will be a little difficult to focus and watch out for the flare with the moon. Take the moon out of the equation and it will be very similar experience and images to using a Canon 50mm f/1.8.
Moving up to the $400 range would get you the Canon or Samyang 50mm f/1.4. Both will be easier to focus. Both also seem to have coma from other reviews say. Take a look at these samples for ideas on what you can do with a 50mm and what you would get from this or the Canon.
So if you are interested in a 50mm lens for night photography should you get the Yongnuo? As a possible best possible option? Probably not. It can work but the difficulty of manually focusing with it makes it tough to use. Of course, the Canon 50mm f/1.8 has similar difficulties.
For real ease of use and for slightly more speed the Canon 50mm f/1.4 is probably the better bet. However at just $56 the Yongnuo is a pretty good deal and since that is less than 1/5 the price of a new Canon 50mm f/1.4 can it work? Yes. It has some limitations in manual focusing and flare (and coma), but if you can live with them it will get you into a 50mm pretty cheap.
My other thought is for most nightscape photography wider is going to be better. A 24mm or 14mm is going to pick up so much more of the Milky Way that I think they are better lenses for nightscapes (see the second image up top for an example). However, if you think you can use this focal length, it is a very inexpensive way to try it.
So for me, I plan on taking it with me for the shot I envision. I will put it to use and see how it does. For this somewhat of a one shot use, I think it will work. If it looks like the right focal length but I find the image lacking I will look at getting the Canon or Samyang 50mm before going back there next spring and trying again. But I think this just might do the trick, I just need to make sure to really work on getting the focus.
---
About the author: Darren Huski is a landscape photographer and blogger from Fort Worth, Texas. He photographs the far reaches of the Lone Star State, the Great Plains and the Rocky Mountain west. He works with a 4×5 film view camera and a modern digital SLR. His work can be seen at WildernessPhotographer. This article originally appeared here.