How I Created Those Viral Photos Showing a Beautiful Flipped Iceberg, From Start to Finish
Last month, a number of my photos showing a flipped iceberg went viral online and in the media. The video above is a 15-minute overview of what it was like shooting in Antarctica, the gear used to capture the images, and a little bit on the release process and how I manage outreach. I'll elaborate below, but do watch the video as it includes some video of the iceberg which I haven't shared previously.

I've released a lot of content online; I never expected the most popular thing would my photograph of a large piece of ice, floating in the water. These photographs, of a flipped iceberg in Cierva Cove, Antarctica, captivated a lot of people and made their way to many far off Internet destinations. It's been exciting to watch it unfold.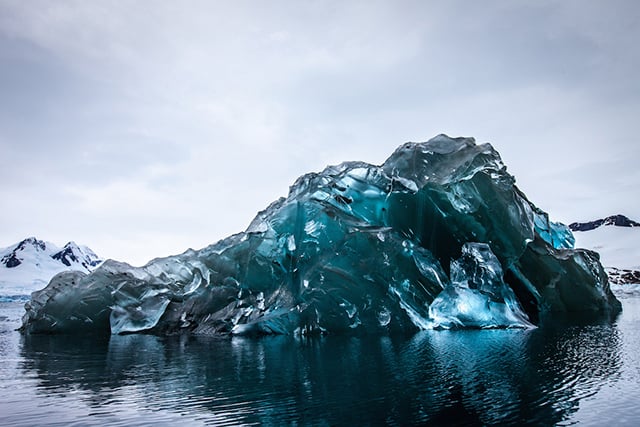 First, I must mention, these photos are amazing because of the spectacular subject matter. Just as if I photographed a whale backflipping through a rainbow, there was nothing remarkable required on my part to acquire the shots. I was lucky to be in the right place at the right time, with the right gear.
Background
The shots were taken in Cierva Cove, Antarctica, and are of an iceberg that had recently flipped over. Its pure underside was revealed, not yet tainted by the elements; the color and clarity of the ice being the result of the substantial pressure it was under while submerged.
The naturalists who were with us that day say the rock and debris indicate that it may have come from a medial moraine, though it's impossible to know for sure. We were lucky to come upon it during the small window of time it was unsullied.
Shooting the Iceberg
The shots were taken aboard a small zodiac boat, with a Canon 5D Mark II and a 16-35mm f/2.8. I shot RAW and most of the images I released were taken at 1/100, f/8, ISO100, at 20-35mm. I was happy to have my wide lens with me, though I would have killed for a 24-70mm or something a little more versatile.
When on shore, I would bring a backpack and all my lenses — but on the zodiacs, I'd typically pick just one, as switching in those conditions could be perilous. I often shot with polarizing filters on the trip, but don't remember if one was attached on this day. I really hate screwing those things on and off.
I also had the newly released Canon 100-400 II zoom with me on the trip (not in the boat). It's a separate topic, but this lens is a stunner. Long focal lengths are extremely helpful in Antarctica — 100-400mm is a wide range, and was all the zoom I needed to get closeups of little wee penguins falling over.
The lens is the same size and weight as the beloved 70-200mm f/2.8, and utilizes a similar rotational zoom ring design. This is vastly better than the pump-action style found on the 28-300. My only gripe with the 100-400 II is that the focus ring is in the rear, and if you're used to the 70-200, this can be confusing for a while.
As you'll see in the video, I include some footage of the iceberg. I was mostly taking stills, so the amount of video I have is limited. It's neat to see as you can sort of get a better sense of scale, seeing the water move around it. The 5D was actually my backup camera, used on the water and in crazy conditions.
My main rig was the 1D C, which I had brought mainly to shoot 4K video. On shore, I would bring the 1D C, all lenses, and a small Ikan monitor to evaluate the waveform. It was completely impossible to see the LCD, given the sun and snow, so I relied entirely on the waveform to get proper video exposure. A loupe wasn't practical given I needed to be switching back to stills often, and things like the Zacuto can get in the way.
Editing
My overview video includes a screencast of my editing process in Lightroom. In the case of these photos, it's really not all that exciting. The edits mostly came down to exposure and clarity enhancements. I shoot RAW, so there is always some work needed to get things back to normal. I work the histogram, bump clarity and saturation, and remove lens distortion.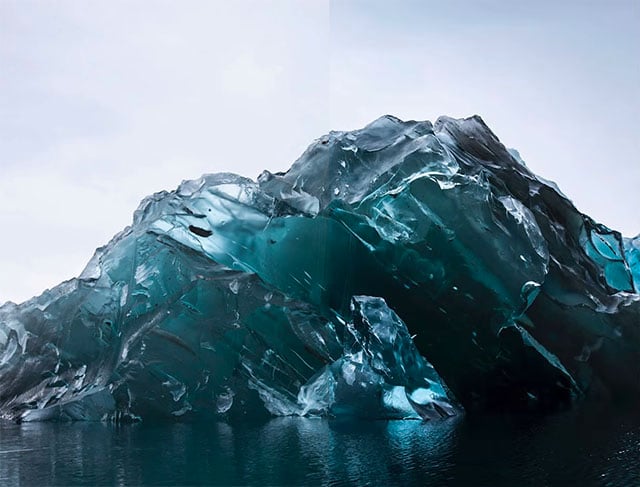 I am pretty hands off these days when it comes to stylistic editing — gone are the days of VSCO filters, grain, and vignette additions. With more time, I would use Photoshop and do more extensive work, but for these images, only simple Lightroom edits were necessary.
Release
I do film and design work primarily; I rarely consider a photo album to be worthy of a "release". When I release videos, I have a whole system and checklist I go through in Evernote; this time, I just posted the photos to my Facebook page and went to bed. Before I could fall asleep, a strange amount of comments centered around this one image of the iceberg. It was enough reaction to get me to post it on my website and also send the images, on a whim, to Colossal.
Colossal is… colossal. When they posted the images, traffic started going absolutely insane right away. I hadn't expected them to post — once I realized they had, I initiated my normal content release strategy. The primary component of this is reaching out to bloggers and press, and letting them know about the work. Personal emails, no email blast.
I've done so many releases over the years, that my outreach list is pretty big. It takes about half a day — I write each person an individual email and think about why the particular content would work on their site. I tend to experiment with each new release to see what works best (email length, overall weirdness, pleasantness, odd vocabulary words, whatever!).
Once the outreach was over, I was really excited to see the images getting posted around a lot. I was very proud to see them here on PetaPixel, for example! What I found very different about this, compared to my normal video releases, is how often press would contact me, and ask permission to post the images (in some cases, even pay me). This NEVER happens with videos.
I had to write a few different canned responses in Gmail to handle to amount of permission-inbounds. Some of the most surprising were The Today Show, National Geographic, Nature, NASA, and Business Insider. Overall it seemed like the whole thing added about 1K Twitter followers, and approx 7K on Instagram.
Conclusion
What a weird experience! As I am not a professional photographer, I wasn't used to how photos spread online. Obviously they are consumed instantly, as opposed to the videos I make, and this multiplies the potential audience substantially (even those with 1 second attention spans can peep a photo!). Mostly I was happy I got to share this unique sight with so many people. It really was incredible to see in real life — I'm glad the photos are almost just as captivating.
---
Large format fine art prints of the iceberg photographs are available here.
---
About the author: Alex Cornell is a photographer, filmmaker, interface designer, and periodic musician who is based out of San Francisco. You can connect with him through his website and on Twitter.