Building a DIY Sideways Room for 'Anti-Gravity' Family Portraits
One of photographer Jeff Paradiso's big projects this past year was to create a sideways room for "anti-gravity" photos. These are images in which the viewer is disoriented in regards to which way is up.

The room itself took three weekends to build, and can be taken down and reused once a shoot is done. For the "floor" that's attached to the wall, Paradiso built eight floorboard-covered panels that are 2×8 feet in dimensions and can be bolted together.
For the "walls" of the sideways room, Paradiso purchased some wainscoting panels from a hardware store, since the lines in the panels would help with the illusion — wainscoting never runs left to right, only up and down. These panels were painted and laid across the floor and second wall.
The lighting of the room needed to be turned as well. Here's a photo showing where the hair, key, and soft fill lights were placed:
Once the room was finished, Paradiso began holding fun family photo shoots in it. The illusion is achieved by turning the photograph sideways to show the "floor wall" as "down":
Here are some of his favorite anti-gravity photographs captured over the course of 2014: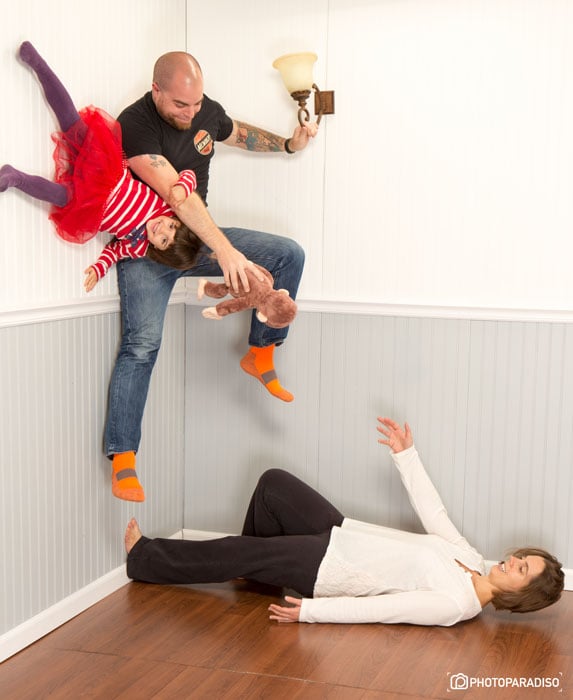 For a closer look at how the room was constructed, check out this behind-the-scenes post on Paradiso's blog. You can also find a larger selection of Paradiso's best anti-gravity photos from 2014 here.
---
Image credits: Photographs by Jeff Paradiso and used with permission