Photographer Creates Grids Showing How People on City Streets Look the Same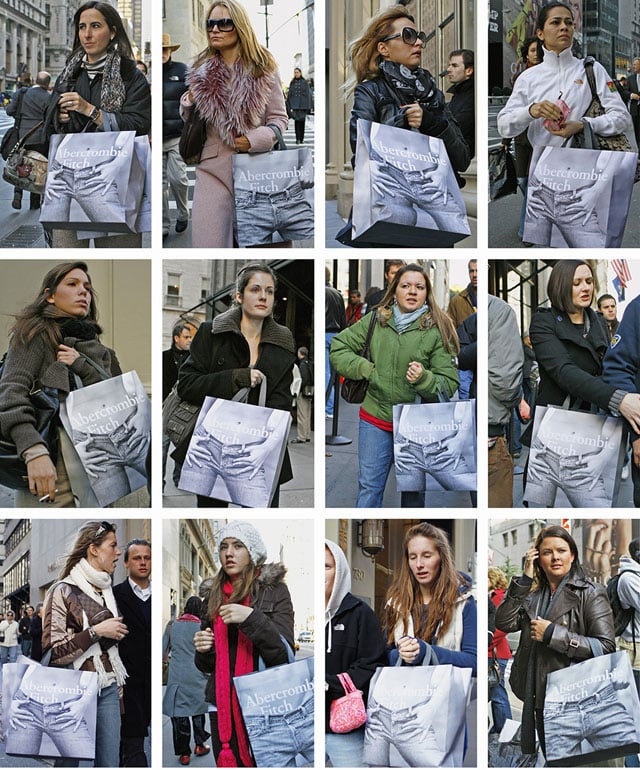 Fashion street photographers usually look for styles that are one of a kind. Hans Eijkelboom doesn't. For over twenty years, the Dutch 'anti-sartorial' photographer has roamed the streets of major cities around the world in search for the common — people showing similar tastes in clothing, accessories, or behavior.
The result is a monumental project called "Photo Notes", which comprises grids of photos grouped together by a common theme.

The photos were captured everywhere from Amsterdam to New York and Paris to Shanghai. After selecting a busy pedestrian area in the city, Eijkelboom would spend up to hours at a time observing passers-by and focusing on a certain thing:
[It's] normally based on a garment, sometimes a behaviour: people in band T-shirts, fur caps or beige trench coats; young couples walking arm-in-arm; women in suit dresses; men with gelled hair or pushing shopping trolleys.
Eijkelboom's snapshots would be silent and secretive, captured with a camera around his neck triggered by a remote shutter release kept in his pocket. Once back in his studio, Eijkelboom arranged the images into grids.
Here are some of the grids in his collection:
More recently, Eijkelboom's Photo Notes grids have been published in a new book titled "People of the Twenty-First Century." As its title suggests, the book provides "a cumulative portrait of the people of the 21st century" through over 6,000 photographs across 512 pages.
You can find more of Eijkelboom's work on the Photo Notes website.
---
Image credits: Photographs by Hans Eijkelboom/Phaidon and used with permission