Nat Geo Photog Says Amazon Won't Stop Selling His Stolen Photograph
Earlier this month, National Geographic photographer Tomas van Houtryve had one of his photographs selected by TIME magazine as one of the Top 10 Photos of 2014. It was a high honor, but also one that opened an unexpected Pandora's Box for Van Houtryve: his photos began appearing on third-party products on Amazon without his permission.
And that's not all: Van Houtryve says Amazon isn't responding to his requests to have the products completely taken down.

Here's the photo by Van Houtryve at the center of this story; it shows house boats floating in California's second largest reservoir that was 70% empty at the time due to drought:
Do a search for "Tomas van Houtryve" on Amazon, and you'll find several phone and tablet cases featuring the photo printed on the back: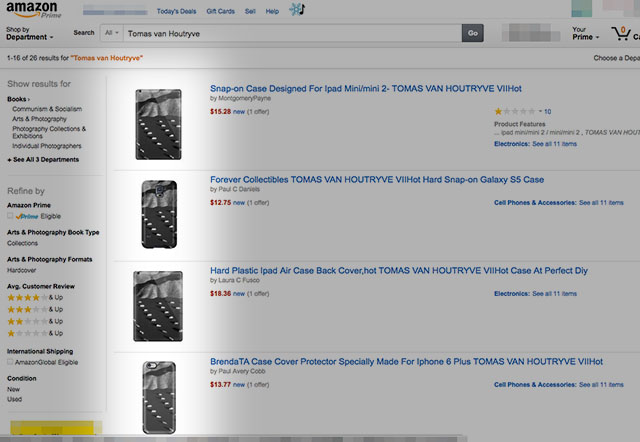 Van Houtryve went public with this story on December 20th with a post to his Instagram account. Here's his account of what had happened leading up to the post:
Dear @Amazon. There are only 4 shopping days left until Xmas & you're are still selling items infringing on my copyright, despite my formal request to remove them.

On Dec. 8, one of my photos was selected as one of @TIME's Top 10 Photos of 2014. A week later, there were 50+ unauthorized cell phone and iPad cases for sale on Amazon.com decorated with my image. The picture appears to have been stolen straight off the TIME website.

On Dec. 19, I asked Amazon to remove the items and give me the contact information of their third-party authorized vendors who are making and selling these illegal cases.

Today Amazon took down some of the items, but 18 phone cases with my image are still for sale. Amazon refused to give me the contact information of their illegal vendors, and had the gall to write to me and say: "We trust this will bring this matter to a close." No Amazon, it won't.
The top search result on Amazon has a 1/5 star rating and 10 reviews so far from people angry about the photo theft:
The next day, Amazon still hadn't taken action, so Van Houtryve posted another note:
Hey @Amazon. Amazingly, you can ship products anywhere within 24 hours, but now it's been 72 hours and you haven't fully complied with my request to remove products from your site which are infringing on my copyright. Are you trying to eek out an extra profit from commerce in stolen goods before the end of the holiday shopping season?

Since you aren't fully complying with my requests by email, here's a format you know how to react to quickly:

My Amazon "Wishlist" • I want you to stop profiting from the sale of stolen goods • I want you to fully comply with your legal duty to take down products infringing on my copyright • I want you to quit covering up for your authorized third-party vendors who are making and selling the illegal products — Background
Another day passed, and still nothing from Amazon's end.
Yesterday, the story took "a horrifying turn." Van Houtryve decided to see if other photographers were getting ripped off on Amazon, and he discovered an iPhone case adorned with a gruesome war photograph by NY Times photojournalist Tyler Hicks. Van Houtryve writes,
This @Amazon copyright infringement issue just took a very horrifying turn. While searching Amazon to see if other photographers featured in @TIME's Top 10 Photos of 2014 had their images stolen, I came across this iPhone case decorated with a photograph by acclaimed NY Times war photographer Tyler Hicks. It shows a Palestinian man carrying a dead child in his arm during the Gaza conflict. A dead child sold on Amazon as a an iPhone case. This is an outrag. I am sickened. Amazon, if you are selling this kind of product under your brand and logo, than your company is broken. Your vetting system is broken. Your complaint take-down system is broken. You've been overrun by your own content and profit slurping algorithms to the point where you've lost all humanity. This never should have happened and you need to make it right.
All Amazon products mentioned in this post were still available on the Amazon website at the time of this post. The company has not responded yet to our request for comment, but we'll update this post if/when they do [Update: Amazon has responded. See below.]
---
Update: Here's another ridiculous iPad case that is presumably being sold without the consent of photojournalist Daniel Berehulak:
---
Update on December 23rd, 2014 at 11:35PST: Amazon tells us, "We won't be commenting. The item is not listed for sale on Amazon." We just checked and, sure enough, all the product listings using Van Houtryve's photo appear to have been taken down. Cases by other photographers are still up though, so it seems like those photographers will have to contact Amazon themselves.