The Tower of David: Photographs Showing Life Inside the Tallest Slum in the World
The Tower of David in the Venezuelan capital city of Caracas is an unfinished skyscraper and the third tallest building in the country. The construction of the tower came to an abrupt halt in 1994 due to the Venezuelan banking crisis, and it was quickly taken over by squatters. Thus, for years the building was known as the "tallest slum in the world."
24-year-old photographer Alejandro Cegarra spent time with the residents and documented their way of life through images. The resulting project is titled, "The Other Side of the Tower."


The Tower of David rises 640 feet off the ground and comprises 45 floors across two towers. Roughly 2,500 people inhabited the building at the peak of its squatting era, before the Venezuelan government launched campaigns to relocate the residents earlier this year.
"The Tower of David has become an emblematic symbol of the city of Caracas," Cegarra writes. "It represents the hopes of Caracas to remain a major economic center, and the failure to do so."
In this same way, the Tower of David has come to represent Venezuela as a whole. The Tower has a reputation for harboring the most dangerous of criminals; ironically, the inhabitants are drawn to the Tower due to its security. For them, the Tower is their part in the Bolivarian Revolution. Their way of life is a fight against the social parameters in which they are viewed as a dysfunctional community.

The Tower remains a closed society, as they are afraid of being discriminated against, because of their living arrangements. While the take over of the Tower, and their way of life remain controversial, the reality is that the inhabitants are simply people who are searching for a sense of belonging, and a place to call home.
Cegarra says that shooting in the tower was "tense" at first because the residents were wary of cameras and outsiders, but eventually he gained the trust of many families.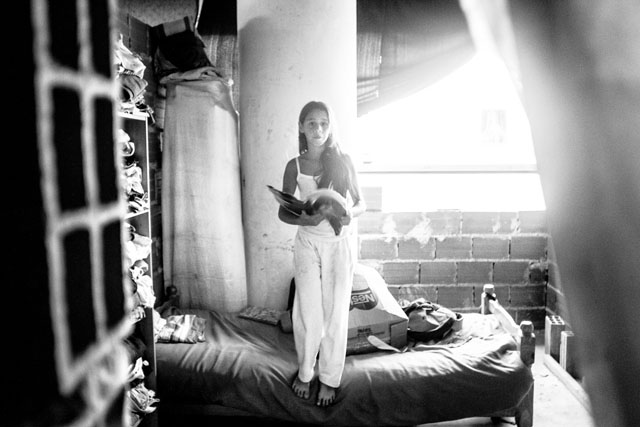 These photographs have earned Cegarra multiple photography awards, including the 2014 Leica Oskar Barnack Newcomer Award.
In June 2014, the government began relocating families from the tower. Cegarra was on hand to document the evictions, and has been shooting an ongoing project that shows the former residents' new way of life away from the tower.
---
Image credit: Photographs by Alejandro Cegarra and used with permission