ShareGrid Allows Photographers to Safely Rent Gear To and From One Another
"AirBnB for cameras." That's how ShareGrid describes itself. The young startup company is trying to do for camera rentals what AirBnB did for vacation rentals, and if the idea catches on, camera gear rental companies may have some stiff competition to deal with in the years ahead.

The service allows photographers to rent gear to and from other photographers. Rental companies can be pricey and occasionally tricky to plan around, while renting directly with strangers opens the door to all kinds of liability issues. Figuring out rental insurance can also be tricky if you want to work directly with gear owners.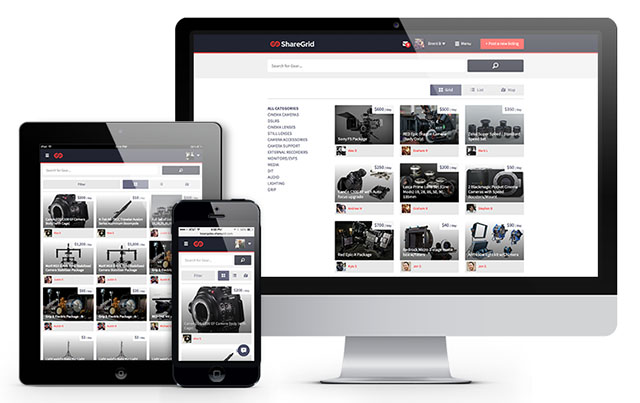 That's where ShareGrid steps in. The company's goal is to match photographers (and videographers) with the equipment they need and provide a layer of security and insurance that puts both parties at ease. Every rental is insured, and every renter is individually verified.
Co-founder Brent Barbano — a filmmaker and photographer himself — tells us,
I wanted to have access to the latest lenses and camera gear without breaking the bank. So my co-founders and I set out to build the best peer-to-peer camera rental community with integrated insurance. Usually insurance means phone tag and faxes. We're the only rental site in which you can purchase insurance online in real-time!
Here's how it works: after signing up, logging in and browsing for an item you need, you choose the dates for receiving and returning it. You'll then be provided with a number of different options for insuring the rental: damage waiver for smaller protection, annual insurance, full security deposit, or your choice of 3rd party insurance.
This step ensures that gear owners will be compensated if their equipment is damaged or lost, allowing them to make some money with their unused gear while having peace of mind. If the owner accepts the rental request, the agreement moves forward with ShareGrid handling the payment.
ShareGrid was founded in 2013 by a team of photographers and filmmakers. They recently did a small beta launch in Los Angeles and signed up tens of members who each listed over $20,000 in gear. The total value of gear available from LA users now exceeds $1.5 million.
The service will launch publicly to additional markets starting early next year. You can sign up for a spot through the website if you'd like to get in on the action.