Photographer Revisits His 30-Year-Old Photographs of New York's Chinatown
Revisiting photographs you took 30 years ago can be an eye-opening experience, and not simply because of the sharp realization of just how much has changed.
For photographer Bud Glick, digging up, scanning and printing his photographs from New York City's Chinatown in the 1980s has allowed him to discover images he once looked over, save images that were once unprintable, and revisit a fascinating time characterized by rapid social change.
The photographs in Glick's Chinatown, NY series were captured between 1981 and 1984 while he was working full-time for the New York Chinatown History Project, now the Museum of Chinese in America. But while this work meant a great deal to him, it eventually found its way into storage where it sat for some three decades.
It wasn't until recently that Glick rediscovered these negatives and began breathing new life into old work with some help from the digital age.
Glick captured his photographs at a time of great change for the community in Chinatown. As he explains in his artist statement:
An older generation of Chinatown was being replaced by a rapidly expanding new influx of immigration. As a photographer, my goal was to document the transformation from an older and primarily male community (due to restrictive, discriminatory immigration laws) to a new generation of young families.

[…]

The early 1980's was a unique time in the history of New York Chinatown. With the passage of time I see how my documentation of Chinatown life can both communicate what it felt like to live in Chinatown at that time and inform our current societal discussion of immigration.
But the best part about revisiting the series, Glick tells us, has been rediscovering the series with fresh eyes and decades worth of detachment. Images he overlooked in the past now jump out at him as culturally significant, and Photoshop allows him to salvage some he would otherwise not be able to use.
The image above, for example, was unprintable when he took it in the 1980s:
I was never able to make an acceptable print of Mr. Ng at the table in the darkroom. He is illuminated by a single light bulb hanging from the ceiling with daylight blasting in through the window in the background.

Burning and dodging in the darkroom, to the extent necessary, was out of the question. When I shot this I knew it would be a problem so I shot a few frames with available light and then shot more, bouncing a flash off the ceiling to light the foreground. In 1983 I printed the shot with bounced flash (because I couldn't print the other) and never felt satisfied that I got the feeling of the light and air in the room, how it felt to be in that room.

Now, 30 years later, using Photoshop, I feel that I can get closer to my original intention in making the photograph. This photograph actually reminds me of my experience that day.
As he continues going through the prints — all shot on Tri-X using either a Leica M4P, Leitz Minolta CL, Nikon F3 or Mamiya 645 — he's excited to continue taking them out of boxes and putting them out into the world.
"There is a lot more to look at. I feel that I've begun something and want to complete it." he tells us. "This work sat in boxes in my closet for years. I don't want it to disappear. I want to get it out of my closet and in front of people as an exhibit or book."
To that end, scroll down if you'd like to see more of the images from the Chinatown, NY series: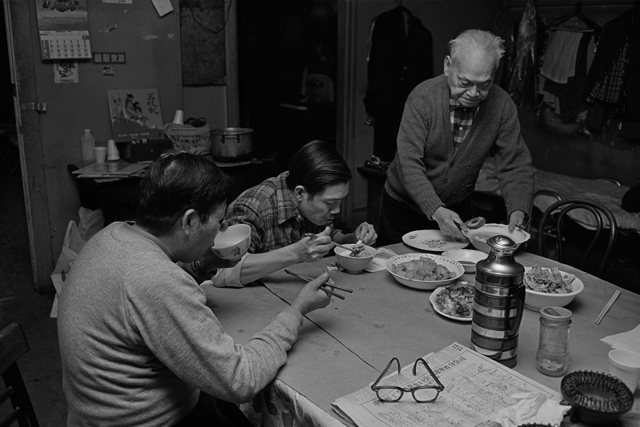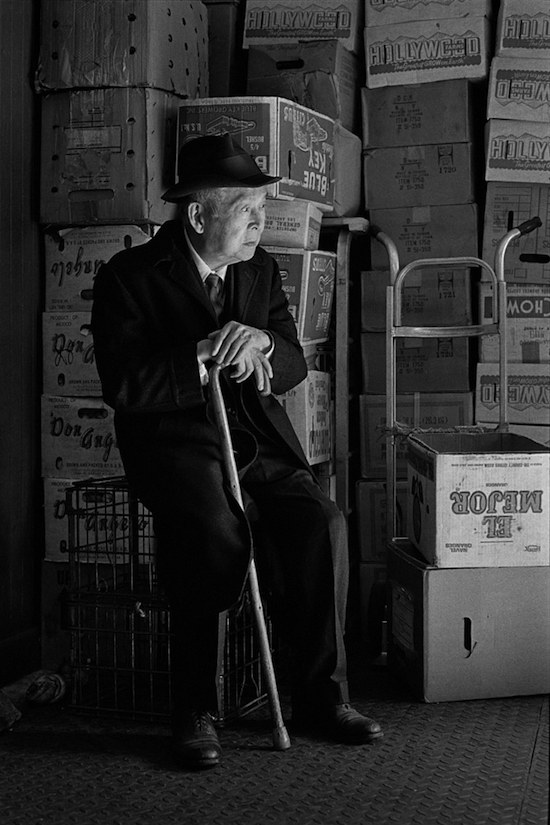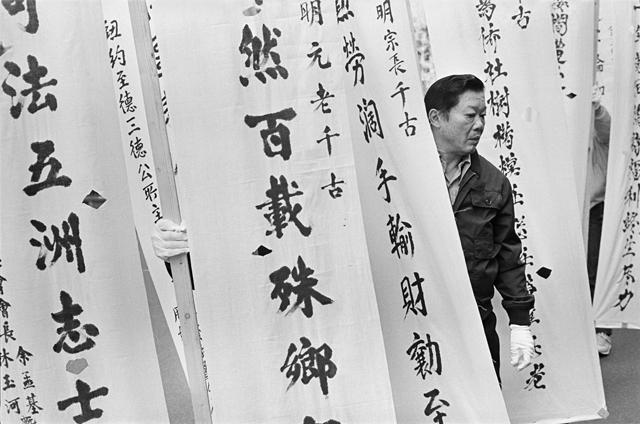 Glick ends his artist statement about the project with this poignant thought. "While art does not exist separately from the unique time in which it was created or the person who created it," he writes, "it can enlighten the present and help us make decisions about the future."
When we asked him to elaborate on that thought, this is what he had to say:
I am still learning from revisiting this project. I think that exposure to the reality of other peoples' lives always challenges our preconceived notions and can open our minds to seeing the world from someone else's point of view.
To continue browsing through these images, or if you'd like to see more of Glick's work, be sure to pay his website a visit by clicking here. And if you have any additional questions for him about the series, drop them in the comments and we may just be able to get you an answer.
---
Image credits: Photographs ©Bud Glick and used with permission