PSA: Declare Your Lithium Ion Batteries or You Might Set Your Plane on Fire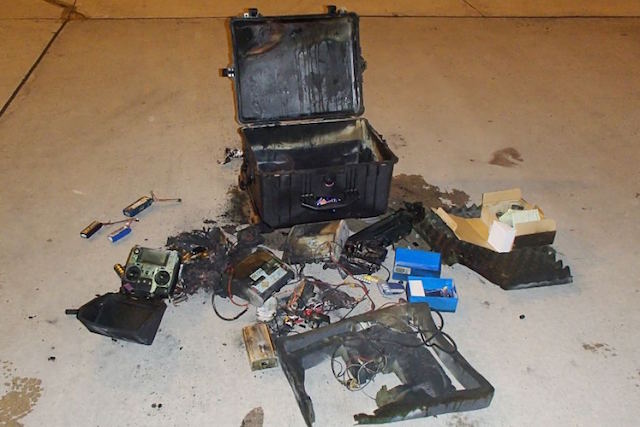 An Australian man learned earlier this year that just because you've disassembled your drone and packed it safely away in a number of Pelican cases, it doesn't mean it can't cause troubles when undeclared in the cargo bay of your international flight.
Earlier this year, the Australian Transport Safety Bureau (ATSB) investigated a fire onboard a Fiji Airways flight that was moments from taking off to Nadi from Melbourne. Their investigation determined that the alarming "white heavy smoke billowing" from the plane's cargo hold had been caused by a number of lithium-ion polymer batteries catching fire. Specifically, lithium-ion batteries which were used to operate a drone.
Subsequently, the ATSB has issued a warning regarding the lithium batteries, which are susceptible to catching fire when exposed to dramatic changes in temperature and air pressure.
According to the report conducted by the Aerodrome Rescue and Firefighting (ARFF), when the owner of the case — a licensed drone owner — was asked whether any batteries were in it, he said there were not. However, the report goes on to say:
The ARFF and Australian Federal Police inspected all four of the bags checked in by the passenger and found 19 batteries intact and [an] additional 6–8 batteries that had been destroyed by fire.
The reports show no sign of legal action against the owner of the multiple cases and vehicles. Instead, the bureau used this as a warning for others looking to transport lithium-ion batteries through checked luggage, be it for drones or other electronics.
(via News ABC)
---
Image credits: Case photograph by CASA, Fiji Airways photograph by Andrew Thomas.