Photographer Gives Us an Inside Look at Meghalaya, India, 'The Wettest Place On Earth'
New Zealand-based photographer Amos Chapple is a name you might recognize from his intimate look inside Iran that we shared just over a year ago. Today, he's back on PetaPixel with a series of stunning images from Meghalaya, India — a village known as 'the wettest place on Earth.'
In case you're wondering, that statement is no exaggeration: on average, Meghalaya receives 467 inches of rain per year. And while this makes it a miserable photography location for many reasons, it also makes it one of the most unique places you could possibly shoot.
In order to combat the constant downpours, the laborers of the village wear knups, which are umbrella-type hats made from bamboo and banana leaves that keep the rain from drenching them as they go about their daily routines:
Another intriguing characteristic of the Meghalaya community is the use of natural bridges. By 'training' the roots and branches of trees, villagers have created a vast infrastructure of living bridges that span rivers and more.
As time goes on, these roots continue to develop and grow stronger, making the bridge itself even sturdier… no maintenance required.
Chapple captures the essence of Meghalaya in an almost cinematic manner, portraying the rain-soaked day-to-day life of the village's inhabitants in a truly enchanting set of photographs: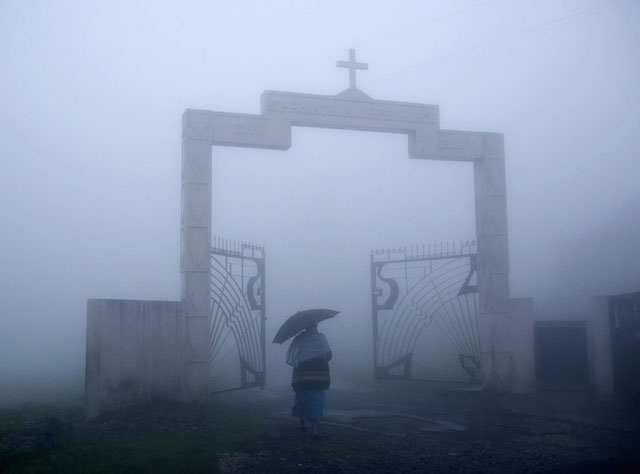 To keep up with Chapple's work, check out our previous coverage and then head on over to Facebook and give his page a like.
(via The Atlantic)
---
Image credits: Photographs by Amos Chapple and used with permission