If You Try to Publish a Picture of this Statue in Denmark, You'd Better be Ready to Pay Up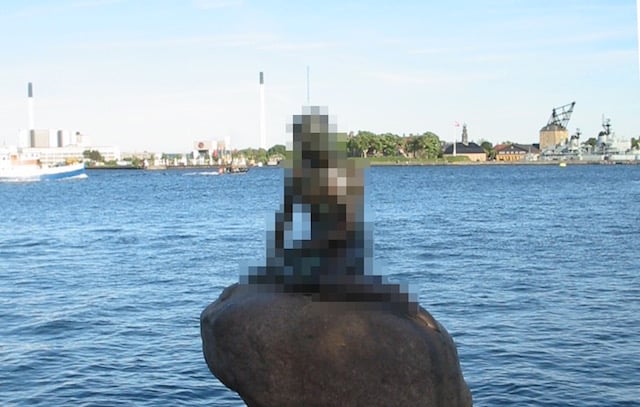 One of Denmark's most photographed attractions, a Little Mermaid statue, comes with a strange caveat: it can't be photographed. Or rather, a photograph of it can't be used in a publication of any sort, even for journalistic purposes, without a big fat invoice finding its way to your door.
You see, the family of sculptor Edvard Erikson, the man who created the iconic Little Mermaid statue, is known for being extremely protective and aggressive about the statue's copyright. As a result, a number of Danish news and media outlets have received massive invoices for using a photo of the Little Mermaid, despite it being one of the country's most viewed and photographed attractions.
A trifecta of Danish newspapers have been fined in the past for using the photos, with one particular invoice coming in at approximately $1,800 for the use of an image of the statue in a story a number of years ago. The photo editor of Berlingske, the newspaper who received the above fine, recently told The Local:
We used a photo without asking for permission. That was apparently a clear violation of copyright laws, even though I honestly have a hard time understanding why one can't use photos of a national treasure like the Little Mermaid without violating copyright laws
According to copyright law, photos of the Little Mermaid and other public pieces of art can't be used for business purposes. And, in Denmark, use of images in media is indeed considered a 'business purpose,' leaving little wiggle room for the outlets to argue.
And while there are said to be exceptions to this law when the photos are used in a 'news context,' as The Local points out, Danish outlets tend to just play it safe these days. Not even The Local used a picture of the statue in their story about the copyright issues surrounding the statue.
The granddaughter of the sculptor, Alice Eriksen, has gone on the defense multiple times, stating to Politiken that they're "just following the country's laws […] It's the same as receiving royalties when a song is played."
But regardless of what analogy you prefer to use, we suggest you keep your photos of the Little Mermaid to yourself if you have any… the Eriksen family means business.
(via The Local)
---
Image credits: Illustration based on The Little Mermaid by Placeboe