Mumbai Photographer's Sexual Assault-Themed Fashion Shoot Sparks Social Media Firestorm
Mumbai-based photographer Raj Shetye currently finds himself the focus of the kind of social media ire that nobody wants to experience. The source of this outrage is a fashion photo shoot he recently published on Behance (it has since been removed) that depicts an Indian woman fending off the advances of several men on a bus.
The reason for the outcry should be obvious to most people who follow the news. On December 16th, 2012, a young woman nicknamed Nirbhaya (the Hindi word for 'fearless') was gangraped on a bus in Delhi, horrifying people the world over.
And while Shetye maintains that his series, dubbed The Wrong Turn, is not based on this incident, it's understandable why some might draw that parallel and be upset at what they see as the glamorization of a truly horrific act.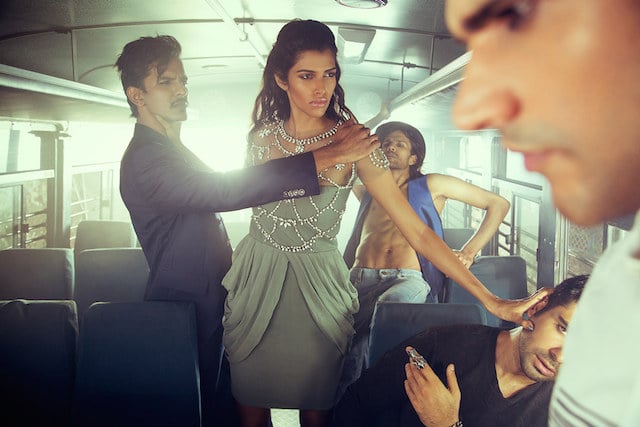 Celebrities, fellow photographers and social media commenters the world over reacted with anger and disbelief. Musician Vishal Dadlani, one of the most widely quoted critics, took to Twitter to express his outrage:
Did i just see a fashion-spread depicting the Delhi gangrape of Nirbhaya? Disgusting!I hope all associated, die of shame! Insensitive swine!

— VISHAL DADLANI (@VishalDadlani) August 5, 2014
Others used Facebook where several fellow photographers shared the photo shoot with varying levels of incredulity. But Shetye isn't entirely distraught by the reaction.
Though he has gone on record to clear his name, saying that the shoot was "in no way meant to glamorize the act," and that he simply wanted to shed light on a terrible topic the only way he, as a fashion photographer, could, he seems to think the strong reaction is at least a partially positive thing.
"If this is the cost to set the ball rolling," he says, referencing the debate on sexual violence that his images have sparked. "I'm okay being the bad guy."
---
Image credits: Photographs by Raj Shetye