Video: An Adorable Photowalk Proposal that Will Melt Your Heart
When wedding photographers Maria Velasquez and her boyfriend Ulices Del Toro started planning their second Laguna photowalk, she had no idea that he had something much bigger in mind than just walking around and snapping pictures.
At the end of a great photowalk, when everybody got together for the standard group pic, Del Toro made his move:
I gathered everyone at the end for a nice group photo. On the last photo I sent Maria over to the camera to take the last photo, and when she turned around she had no idea what she was in for…
When she got to the camera and turned around, this is what she saw: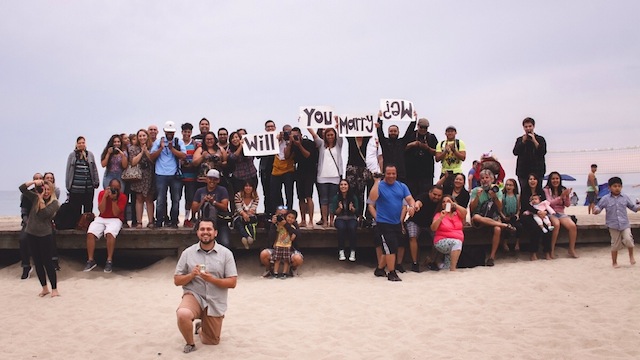 Forgiving the upside down "Me?" (which actually adds a bit of whimsy to the photo) she turned around to a perfectly planned proposal and a bunch of people with their cameras out to capture her reaction. You can see the touching moment of truth in the video at the top.
"I've known for a long time now that I want to spend the rest of my life with her, and I wanted to do something really special that combined all our friends and family and the thing we love most," wrote Del Toro on his blog. "So what better proposal, than at a photowalk."
What better way indeed? It's a proposal that captured their love of photography, and they didn't even need to hire an engagement photographer to shoot the special moment from the bushes… they had tens of photographers and photo enthusiasts there to capture every tearful expression.
To see a few more pictures, or if you'd like to find out more about this wedding photography couple, head over to the proposal blog post or check out the DelToroPhoto website by clicking here.
---
Image credits: Photographs by Maria Velasquez and Ulices Del Toro/Del Toro Photo and used with permission