Eerie and Fascinating Photos of a Completely Empty New York City Taken in 1964
In 1964, photographer Duane Michals fortuitously found himself leafing through a photo book that contained the work of French photographer Eugene Atget. Atget's intimate 19th century photographs of Paris inspired Michals to attempt to capture a similarly intimate portrait of New York City.
Thus was born 'Empty New York,' a series of photographs showing the streets of the Big Apple completely devoid of live, exhibited for the very first time as a set at the DC Moore Gallery in New York in April and May of this year.
The photographs that make up 'Empty New York' were all taken early on Sunday mornings in 1964, and back then, it seems, the city that never sleeps did at least take an occasional break from the hustle and bustle.
Speaking with the DC Moore Gallery, Michals recalls wandering around the empty streets with his camera:
Everywhere seemed a stage set. I would awaken early on Sunday mornings and wander through New York with my camera, peering into shop windows and down cul-de-sacs with a bemused Atget looking over my shoulder… Everything was theatre; even the most ordinary event was an act in the drama of my little life.
Without post processing, these images would be impossible to replicate now. Stores hardly ever close, streets hardly ever empty, and the thought of catching a place like Penn Station or the Washington Square Hotel in a still and silent moment wouldn't even cross most photographers' minds.
But in 1964, it was possible, and Michals' used his prodigious skill as an image maker to capture these moments with an honest simplicity that matches their eerie lack of activity: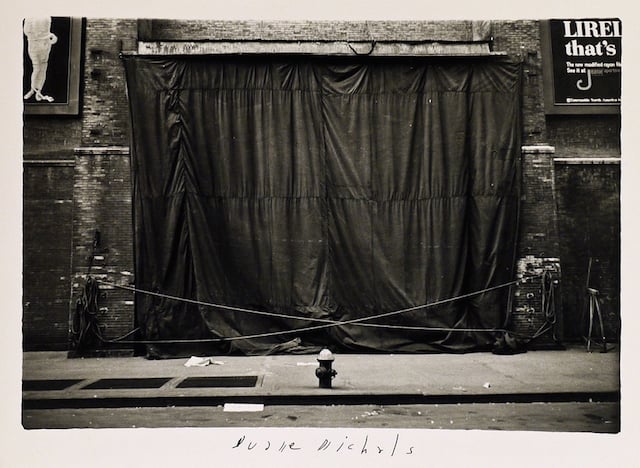 To see the rest of the photographs in 'Empty New York' or read more about Michals and this particular project, be sure to visit the exhibition's page on the DC Moore Gallery website by clicking here.
(via Laughing Squid)
---
Image credits: Photographs © Duane Michals. Courtesy of DC Moore Gallery, New York.