GoPro Cameras Get Simple, High-Quality Filters with Lee's New 'Bug' Lineup
GoPros are popular little action cams. Between the company's brilliant marketing and the well-liked hardware, it's not difficult to see why they decided to go public. But as impressive as the little cameras may be, they do have their limits. Most notably: the lack of exposure controls when it comes to capturing something.
To help combat that problem and also spice up the action cam footage being captured, Lee Filters has announced a new line-up of holders and filters for GoPro's latest Hero models.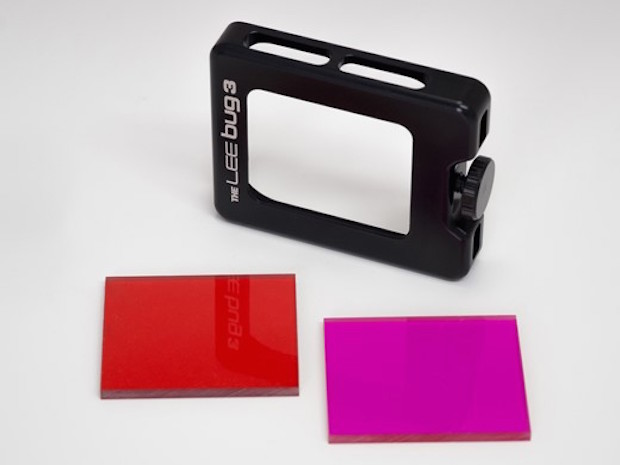 Available in two varieties: the Lee Bug 3 and the Lee Bug 3+ are compatible with GoPro Hero 3 and Hero 3+ cameras, respectively. Each features a 'compact and robust' holder, as described by Lee, which is attached over the case of a GoPro camera and secures a mounting bracket in front of the GoPro's lens.
You then mount one of the 36x31mm filters that fit in that bracket, which were designed with the GoPro in mind but use the exact same quality process and materials as all of Lee's other offerings.
The Lee Bugs will come in two kits: one for shooting on land, the other for underwater adventures. The Bug Action Kit comes with a 3-stop neutral density graduated filter as well as a circular polarizer, while The Bug Underwater Kit features one blue-water and one green-water correction filter.
In due time, Lee tells DPReview, more filters are set to be released — including a solid ND filter to combat extremely bright lighting scenarios.
Not all future designs will be coming from the inside of Lee though. In the same statement, the company told DPReview that they are extremely open to any and all suggestions from GoPro users looking to get a bit more performance out of their gear.
If you're looking to pick one up for yourself, the filter sets range from £45.20 (approximately $78 USD) to £66.31 (approximately $114 USD). We're yet to find any links to retailers currently offering the two kits, but we'll be sure to toss in an update as soon as we do.
(via DPReview)