The Exo GP-1 Housing Turns Your GoPro Into a Classic Camera Look-Alike
There's a new GoPro housing that wants to transform the way your GoPro looks and works. Newly launched today, it's called the Exo GP-1, and it's a shell that makes your GoPro look like a stylish classic camera while giving it more functionality.

The shell helps improve still photography ergonomics for your GoPro, making it feel more like a standard compact camera in your hands rather than a tiny action camera.
In the upper left corner of the case is a little viewfinder window that helps you frame your shots. The lens in the viewfinder is designed to replicate the field-of-view of the GoPro lens, so even though you're not looking through the lens itself or staring at an electronic viewfinder, it aims to be a good approximation of what you'll capture.
On the bottom is a standard 1/4" tripod mount, and on the top is a cold shoe mount for adding various accessories to your setup.
To help you carry the camera around more comfortably and securely, the Exo GP-1 includes a leather strap that comes in two different sizes: a small one for your hand and a full-size one for your shoulder.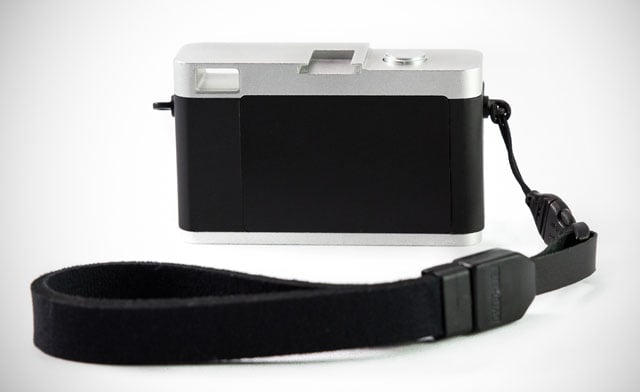 The team behind the Exo is also developing a full line of lens filters, from style filters to change how your photos look to photographic filters (e.g. neutral density) for creative control.
Finally, there are plans for future add-on accessories as well, from an iPhone mount that uses your phone as an external monitor, to a special handle for low-angle shots, to a complete system of interchangeable lenses.
Creator and photographer Andy Day says he got the idea for the Exo GP-1 while working in Bali. After accidentally leaving his DSLR in the car, he was forced to make do with his GoPro, but found that it was difficult to get a comfortable grip and properly frame shots.
"I love my GoPro but I wanted to be able to use it in a more comprehensive way," says Day. "A way that meant it didn't matter if it was the only camera I had in my travel bag, the only camera I took on holiday, or the only camera I had out with me on the weekends."
"I wanted to be able to trust that with just the one camera, I could capture everything from 4K video, through to timelapses, burst images, and stills photography."
So now he's setting out to upgrade GoPros around the world with a new housing. Day just launched a Kickstarter campaign to crowdfund this project. You can snag a first unit of the Exo GP-1 with a pledge of about $155 and up. If all goes according to plan, the first units will start shipping in January 2016.