Cinematic Kansas Supercell Timelapse Will Leave You in Awe of Nature
A couple of days ago, we shared a time-lapse of a Wyoming supercell forming that just blew us away. It was, however, an amateur production by storm chasers, and left something to be desired in way of technical time-lapse beauty. As one commenter put it, it wasn't so much "an incredible time-lapse of a supercell forming" as it was "a crappy time-lapse of an incredible supercell."
Well, if it's an incredible time-lapse of a supercell you want, it's incredible time-lapse of a supercell you'll get. In fact, we'll give you an incredible time-lapse of an incredible supercell.
The video above qualifies, without a doubt, in the incredible category. Captured near Climax, Kansas on May 10th of this year, it was put together by photographer Stephen Locke, who is a bit more skilled at capturing cinematic shot of storms, even if he's not always in their path like the Basehunter folks.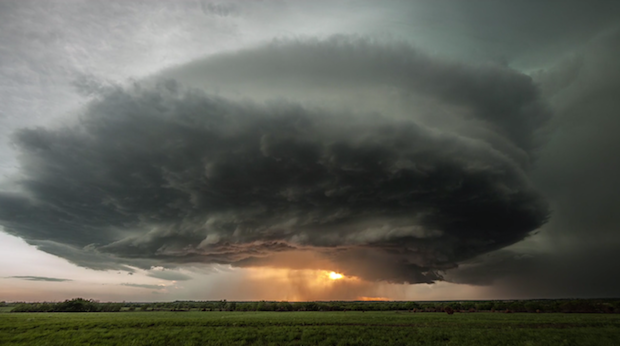 Complete with incredible cloud shapes, some rain, some lightning, and even a masterfully captured sunset, the Climax supercell video above leaves little to be desired out of a storm time-lapse. It's just plain magnificent.
But don't take our word for it. Check out the video for yourself by clicking play above, and then head over to Locke's website to see even more astounding time-lapse cinematography alongside some pretty spectacular stills.
(via Digital Trends)