Sony Officially Reveals the RX100 Mark III, Boasts Brighter Lens & Pop-Up Viewfinder
It's finally here, and lest you feel the surprise of the RX100 Mark III was ruined by the spec and photo leak from early this morning, fear not, they got at least one thing wrong.
Of course, that doesn't mean the didn't get plenty right. Inside the newest version you'll find the same 20.1MP 1-inch CMOS sensor as the RX100II, only this one captures the world around you through a wider and brighter ZEISS Vario-Sonnar T* 24-70mm f/1.8-2.8 lens and takes advantage of the three-times faster Bionz X processor higher-end Sonys like the a7 series use.
In addition to the lens and improved processor, the headline-making addition here is a 1.4M-dot OLED pop-up "Tru-Finder." It features a "specially-designed eyepiece lens with ZEISS T* coating," disappears into the camera when you're not using it and promises "exceptional corner-to-corner clarity." The downside is that you lose the hot shoe that the RX100II introduced.
Other notable features included in the RX100III is the token selfie-friendly articulating LCD, Full HD video capability (120fps at 720p), 'clear' HDMI output and an "Intelligent Active Mode" that "utilizes Sony's frame analysis technology and 5-axis compensation to dramatically reduce the effects of camera shake while shooting movies."
There's also built-in WiFi and NFC, plus compatibility with all of Sony's PlayMemories Camera Apps.
Here's an all-angles look at this beautiful little compact: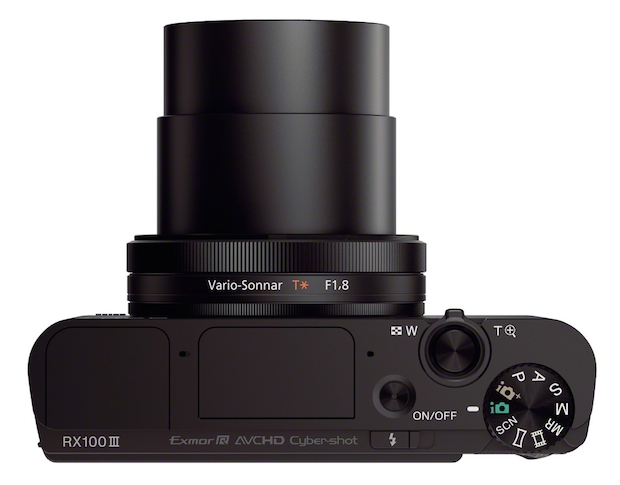 The new RX100III will arrive on store shelves, digital and otherwise, next month and this, thankfully, is where we get to what the rumor sites got wrong. They said the camera would cost about $900 US, but they actually overshot by a full $100.
The RX100 Mark III will only set you back $800 if you choose to purchase it, which you can do preemptively by clicking here. You can also get some hands-on time with the camera this weekend if you happen to be at the PMA Big Photo Show in LA.
For more info, head over to Sony's Press Room by clicking here.