Shutterfly Accidentally Sent Out Newborn Congratulations to Random Users Today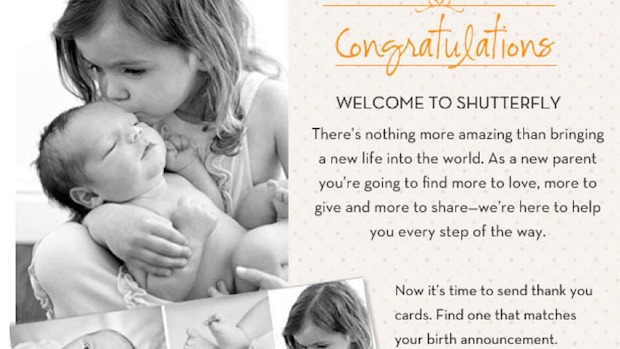 Oops, talk about an embarrassing technical glitch. Earlier today, hundreds of random Shutterfly users received an email with the subject line "Congratulations on Your Bundle of Joy"… which would have been a sweet gesture… if these people had actually had a baby recently.
It turns out the email was sent out to many users by accident, and so instead of wondering how Shutterfly knew they had just had a baby, people wondered if Shuttefly knew something they didn't… or worse, called out Shutterfly for reminding them that they couldn't have kids.
Here are a few of the tweets people posted regarding the incident:
Shutterfly sends email congratulating me on new baby. I have no recollection of this event. I hope I didn't leave a baby at the hospital.

— Michele Catalano (@inthefade) May 14, 2014
Shutterfly emails: Immaculate misconception.

— Glenn Fleishman (@GlennF) May 14, 2014
Dear @Shutterfly, thanks for the email congratulating me on being a new mom, but you're behind the times. I adopted my dog 3 years ago. #wtf

— Misty (@nomsnotbombs) May 14, 2014
Thank you Shutterfly 4 congratulating me on my new arrival! I may need to go on Maury Povich though as I'm not a dad. pic.twitter.com/cIkZ5iXQdP

— Scott Sharpnack (@ScottyNack) May 14, 2014
Geez this is embarrassing, but @Shutterfly I'm going to need you to tell me who's the mom… pic.twitter.com/H0SvyChjvf

— Ryan Chamberlain (@poliholic) May 14, 2014
To their credit, Shutterfly did apologize. In fact, in addition to releasing an apology tweet of their own (seen below) they actually took the time to apologize to many of the offended tweets individually.
This morning, an email was sent unintentionally to some customers. We deeply apologize for any offense this may have caused.

— Shutterfly (@Shutterfly) May 14, 2014
It's an embarrassing mistake that clearly caused some very serious offense for at least a few people, but it seems they handled it as well as they could have given the situation.
In the meantime, just keep in mind that if you received a congratulations from Shutterfly today, it doesn't mean your significant other isn't telling you something… it's probably just a technical glitch.
(via Gizmodo)