Tour Manager: Concert Photogs Who Want Payment for Social Media Use Can 'F*** Off'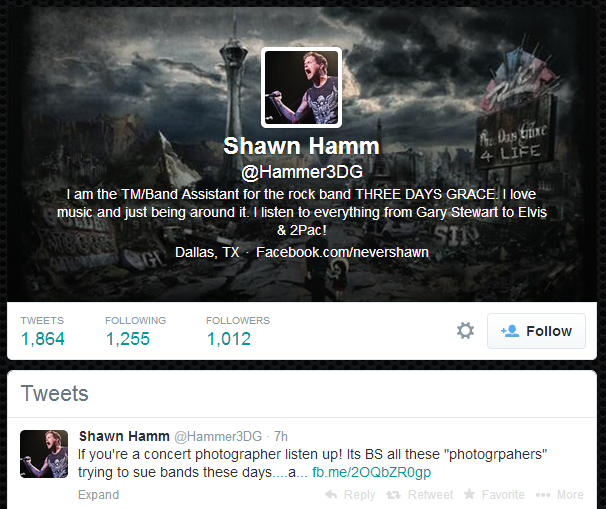 One would think that those in the photography and music industries would act as allies — both industries, after all, are built upon the hard work or artists and storytellers who have spent years honing their craft.
However, all too often, they wind up butting heads as was the case with the Red Jumpsuit Apparatus story two days ago and, now, with this Facebook rant from a major band's tour manager.
The tour manager in question is Mr. Shawn Hamm, who works for the rock band Three Days Grace. Last night he took to social media to share his feelings about concert "photographers" (his quotes not ours) who ask for payment when a band shares a watermarked and credited image on their social media feeds.
Here's what he had to say (we have blurred out the cursing, but otherwise the message has been left unchanged):
To Mr. Hamm's credit, he does go on in the comments to say that both a watermark and credit ought to be there. If those things had been there for Mr. Anderson the Red Jumpsuit story never would have become a story, and many photographers are satisfied with the exposure.
But the insinuation that it is a privilege for the photographer and a right of the band to post your work as long as there is credit, and that a photographer is taking advantage of some sort of "loophole" to get paid when they ask that the band pay for sharing without permission is troubling.
Others also weighed in:
Apparently this began because a photographer who was credited but not asked permission asked that his photo be taken down off the Three Days Grace FB:
At best, it seems there is a fundamental misunderstanding of copyright law; at worst, a fundamental disrespect for what photographers do and how they seek to make a living. Many photographers would be okay with a watermark and credit (especially if they reached out to the band and were given access for free) even if permission wasn't asked. But they are certainly within their rights NOT to be.
And for those who would say that it is then okay to steal or share Three Days Grace's music if you follow Mr. Hamm's logic, he has an answer for you as well:
As always, we invite you to let us know what you think in the comments down below. And if you'd like to see the original posts you can find it on Mr. Hamm's Facebook and Twitter (they were still live at the time of this posting, despite a much more negative reaction on Twitter…).
---
Editor's Note: On a personal note, if you do choose to share your opinion directly with Mr. Hamm himself, I would ask that you do it respectfully. Much of what is infuriating about his comment is the disrespectful tone.
Don't make the same mistake by attacking him personally or engaging in the typical troll-style comments that point out his grammatical mistakes. Just keep in mind that, as a photographer, the comments you make in a public forum reflect on the entire industry… in the same way that Mr. Hamm's comments reflect badly on the entire music industry.