Cinematic Photos Honor First Responders: The Heroes Who Don't Wear Capes
Update: Brandon has uploaded the EMS photo below to the Saving Eliza SmugMug sale! Very appropriate that a photo of people who save lives be sold to help raise money to save a life! Click here to purchase a print of Brandon's photo and help raise money for Eliza.
---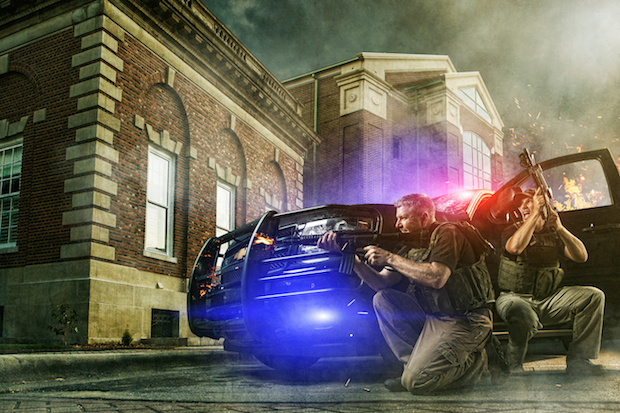 Photographer Brandon Cawood's images of first responders look like they belong on movie posters, but the people in them are the actual heroes that we have to thank for taking care of us when we get hurt or are in trouble. The series is called "Not All Wear Capes," and if you have a friend or relative who is a first responder you should definitely send them a link.
It all started as a personal project to photograph EMS but it has exploded into a viral sensation that we hope won't be just a flash in the pan.
According to Dani Diamond over at Fstoppers, Cawood has always had a passion for superheroes. Of course, as he grew up, his definition of the word changed. He realized that Batman and Superman had real life counterparts, and while they didn't wear capes of respond to Bat signals, they were just as dependable and willing to risk their lives to help others.
His love for superhero movies did, however, influence his direction in photography. Which is how we arrive at this dynamite photo series that depicts our real-life heroes in the same style as the Iron Man or Captain America posters we're all familiar with:
Here are a few of his images:
And a couple of BTS photos that show how the composites come together:
Here's how Cawood describes the project on his website:
This series is a celebration of our communities' guardian and a memorial to the healers that put us back together when our bodies are broken. The women and men in this series are those who inspire our children to be noble and brave! They do what they do not for reward but because they want to make our community, our home, and our country a better place. Though they don't wear capes, these are our HEROES!
The project wasn't without its challenges. He tells Fstoppers that he didn't have much of a portfolio to showcase when he first began contacting departments, which made people hesitant to volunteer. Plus, all of the people in the shots are "real" and not models. That includes the victims and bad guys, who are played by Cawood's friends a family. Coaching them was another challenge.
As you can see, however, the hurdles were all eventually overcome and a great, cinematic photo series is the result. To learn more about Cawood, see the full series in high res or browse through the rest of his portfolio, head over to his website or give him a follow on Facebook.
---
Image credits: Photographs by Brandon Cawood and used with permission