Touching Portraits of 3 Young Girls Battling Cancer Help Inspire and Raise Awareness
After having a close friend lose a one-year-old to cancer years ago, and watching her stepfather battle this all-too-prevalent beast today, Oklahoma–based photographer Lora Scantling was inspired.
Inspired to create an image, or a series of images, that show the strength of and give encouragement to those who are battling the disease, as well as those who are watching someone go through it.
The image above is the result of Scantling's inspiration and features three young girls who had never met prior to this touching photo shoot. With the help of Goodger Photography and two local boutiques — Penelope's Children's Boutique and PJ's Boutique — the collaborators used Facebook to seek out the three brave girls: Rylie (left), Rheann (center), and Ainsley (right).
Three-year-old Rylie has just recently gone into remission for stage 5 kidney cancer; six-year-old Rheann is currently a year and a half into battling brain cancer; and four-year-old Ainsley is currently in remission for leukemia.
Christy Goodger from Goodger Photography summed up the point of the photos well, "I think it can be a lonely disease. You sit in the hospital a lot." A point that was driven home by Rylie's mother, Bridget Hughley, when she said, "from May [2013] until January [2014], that's where we lived, was the hospital."
The images captured have since gone viral, with thousands of 'likes' on Facebook and almost as many shares, each packed with inspirational messages. Scantling hopes that these images will continue to go viral, bringing awareness to the prevalence of childhood cancer, stating:
You know every photographer has the dream of making a photo that would touch millions and be seen around the world. More importantly the recognition these girls are getting is amazing! People are seeing their strength and getting to know them! They are making an impact on the world! It's their story, all I did was capture it!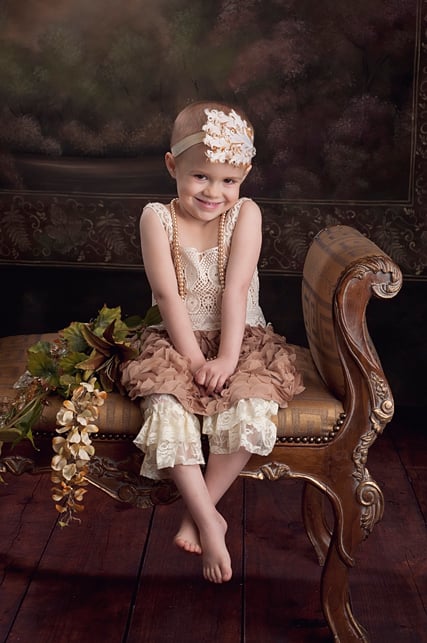 We've shared quite a few similar stories in the past, I'm always honored to share these moments. These amazing moments when photographers and vendors team up to use their time, talent and strength to bring awareness or otherwise support a disease I myself am all too aware of.
You can do your part in bringing awareness by simply sharing these images and the story behind them. And if you'd like to offer your support to these three girls and keep up with their journey, you can do so by following their respective Facebook pages: Princess Rheann, Ainsley's Allies, and Team Rylie would all appreciate the support and awareness the photography community can bring to them.
(via Yahoo via SLR Lounge)
---
Image Credits: Photographs by Lora Scantling used with permission