Photos Show a Superbike Narrowly Miss a Photographer, But Crush His Gear
As we've covered before, motorsport photography can be one of the most difficult types of photography to be proficient in. But not only is it one of the most difficult, it's also one of the most dangerous, as photographer Az Edwards shared with us recently.
While photographing the first race of the season at Brands Hatch, Edwards had an close call with one of the Thundersport GB motorbikes. A close call that left him unharmed, although his gear was not so fortunate.
As Edwards explained by email:
Dean Mulcahy lost control and fell heavily at Paddock Hill Bend… his bike skipped across the gravel trap and flipped up into the air. I took evasive action and managed to miss his flying bike and debris which ended up landing on the tyre barrier exactly where I had been standing!
"Sadly 2 of my camera's and lenses weren't able to back out of the way like me," he continued. "My Canon 1D2N body fitted with a 24-105mm lens and Canon 1D3 body fitted with 400mm F5.6 lens were sent flying"
As you can see from the accompanying images — which were captured by fellow motorsport photographer Jon Bryant — the damage was rather dramatic, both to the bike and Edwards' gear. But despite how crunched the lenses turned out, Edwards said that the Canon 1-series bodies are supremely resilient: both of the camera bodies are still functioning perfectly despite the thrashing they received.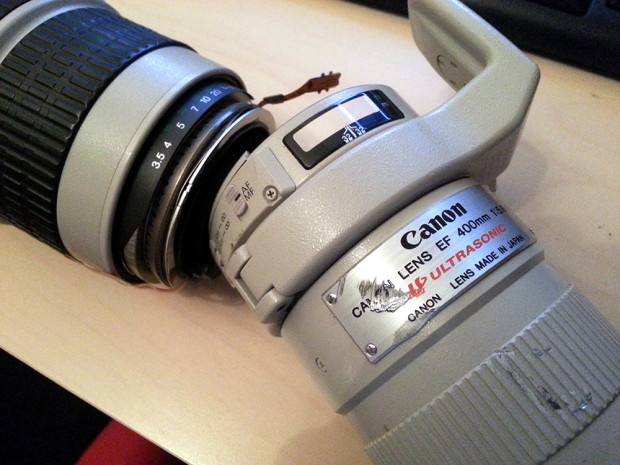 Edwards notes that he's "been doing motorsport photography for around 10 years now, so I'm well aware of the dangers. Incidents like this highlight the importance of paying 100% attention and expecting the unexpected!"
The sequence of images is quite scary if you even attempt to put yourself in the shoes of Edwards. Nothing like a bit of adrenaline to keep you on your toes and shooting like there's no tomorrow.
Jokes aside, we're glad Mr. Edwards escaped the incident unharmed, and happy he chose to share these death-defying images with us.
---
Image credits: Photographs by Az Edwards and Jon Bryant and used with permission