Two Shooters, One Race: Photographing Sebring
Different approaches for different generations. Spectacular results all the same.
---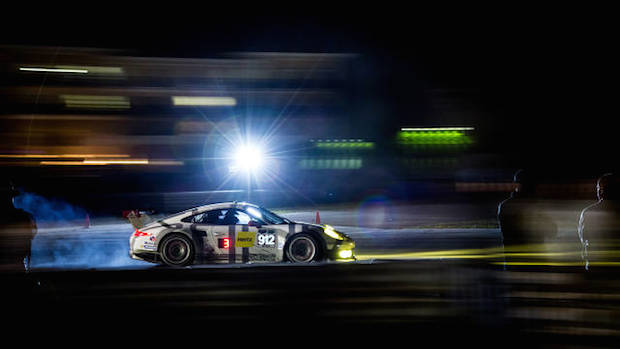 If you want my respect, show me an amazing racing photo. Show me that you can make art with a bunch of people telling you where you can and can't go. Show me that you broke your back under the Florida sun, lugging 30 lbs of camera equipment while you walked the course all day long. Try it when you know that there are 120 people with exactly the same credentials and access who are just dying to take your job.
Show me that you can shoot amazing racing images, and you'll have my respect.
Because I've tried it, and it crushed me.
I know from experience that there are very, very few people who can hack it at the top level of racing photography, and we've got two of the very best in the business contributing regularly to Road & Track.
26-year-old Jamey Price is on his way up. Know it or not, you've seen lots of his work here and in Road & Track Magazine. He shoots F1 and sports-car racing with the best of them, and has the talent and extraordinary work ethic that will keep him at the top of the industry for a long time to come.
Staff photographer Marc Urbano is a modest guy. I'm going to embarrass him when I say that he's both the reason I came to Road & Track as a photographer and the reason I spend most of my time writing instead of shooting. I know when I'm outgunned. Urbano is the most versatile and talented guy shooting for car magazines right now.
Credit Marc's success to the perfect combination of expertise and knowledge. Despite shooting primarily road cars for Road & Track and our sister publication Car and Driver, Marc's knowledge of recent American sports-car racing is nearly encyclopedic. He knows every track, every driver, and every car, and he knows just how to capture them perfectly.
So imagine how stoked I was when we were able to send both Marc and Jamey to shoot the 12 Hours of Sebring this year. We got them on the phone at the end of the weekend and had a conversation about what it takes to shoot the 12 Hours of Sebring.
Road & Track: What kind of images are you looking for when you go out to shoot an endurance race like Sebring?
Jamey Price: Excitement. That's what I'm always looking for. Weaving lines, color. It's dependent on the car, too. The Audi and the Rebellion last year were millimeters away from the wall. That makes an exciting image! The GT cars were 10, 15 feet off. It's totally a different shot. Sometimes you save corners for specific cars just because of that. When I find a shot I like, I always think about improving it.
Marc Urbano: I took a long break from racing, and a lot of these young guys like Jamey and Camden [Thrasher] have really pushed racing photography forward. I like photos that tell a story. A great shot can be found in the awful light midday. My favorite shots tell the story of the track that weekend. Those shots are wider sometimes, they have a lot of environment. Jamey's shot from Petit Le Mans last year of the DeltaWing going under the bridge, that really did it for me. I'd never seen that shot before. When you have a shot that shows more than just the car, that's special.
JP: I totally agree. And it's really hard to do that at Sebring. It's so flat! Everything is on the same level. The cars, the track, the fans, and the photographers. I like the title 'Photojournalist' for what we do a lot better than 'Motorsports Photographer.' We're always trying to tell the story. We HAVE to tell the story. If we just shoot the cars, we haven't told the story of the 100,000 fans that show up to watch the race, or the bikini contest in the infield, or any of that. You name it, it's at Sebring, and that story is more powerful than any image with just a car filling a frame.
R&T: So how do you go about getting that story-telling image?
MU: All of the tracks on the schedule are well known, and they've been shot a million times. You know where the light is going to be, where you can get good shots. You can always go where the light's good. That's a rule for all photography. That's going to work better than going to an exciting corner. Sometimes you need to break the rules and go where the light isn't good and take a risk. If the light is getting bad, you go the action. I'll also try to find places where the track is interesting and frame the track.
JP: I'm always looking for something different. I haven't shot these races as many times as a lot of these guys. This was my second time at Sebring, and the first I was just in content overload. There are maybe 120 people I'm competing with here, and if we all make the same picture, I've got a problem.
I'm not just looking for light, I'm looking for Sebring. Fans, the culture, iconic things like that. This time I just walked around looking a lot. I didn't have a golf cart.
MU: Walking is the best way to see the track. My favorite way to shoot Sebring is to just walk my way around the track.
JP: You have the time to do it. From 11:30 am to 3:00 pm, the light is just really bad. It's harsh and … it's Florida. You're shooting over tarmac, and there's heat haze. It'll ruin your photos if you're shooting with a long lens, which you always are. So there's that four-hour window when you can really explore. Then for two hours, you're never going to find better light in the world.
R&T: What makes one shooting location better than another?
MU: Backgrounds. There are a variety of backgrounds at Sebring. It's very flat, you're always going to have something busy, but you have to make that busy background work. You use a long lens to blur the background, and then you can use fans and hotels and background clutter to your advantage. That's the real challenge, using that busyness to your advantage. It's a lot of fun.
JP: Sebring is like nowhere else. It's an airport, like Marc said. It's flat. But fans set up these ridiculous scaffolding castles and then you add the light, and the night, and the different colored shirts, and the curbing. I love it.
R&T: And you just walk from one location to the next?
JP: Red Bull keeps me alive out there. I'm still in the honeymoon phase with shooting racing. I'll talk with fans and they'll offer me hotdogs and beer. It's not hard when you're on the track. As soon as you head back to the media center to work on your photos, that's when you feel like you're working a 23-hour day.
MU:(laughing) I'm older, I'm always trying to hitch a ride with people. It can be very tiring. Sebring is the only race where I really miss film. It would never occur to me to miss it anywhere else. There were no worries about going back to the media center then, so you know, you just took 60 rolls of film and shot until sunset was over.
JP:(Never shot a roll of film in his life) Whoa.
MU: You could take your time. Really, you had all day.
JP: Now, even though you have 12 hours, it still feels like a sprint race. You're always running around.
MU: You definitely need a game plan.
R&T: So, speaking of that, Sebring is famous for its sunsets.
JP: There are about three corners you can get a sunset at. Those 120 photographers are going to be at one of those three places.
MU: Unless you have a cart, you have to give up some shots. In those two hours, the light is great anywhere you go. You have to decide what's important. For me, it was just about shooting a corner I hadn't shot the previous year, just to shoot something differently. I love Turn 1, but I haven't shot it in years because you're stuck there. It's a fantastic shot, but instead I shot around 11, 12, and 13.
JP: We were both there for sunset, but I never saw Urbano. I saw an image of a tree there a couple years ago that you could pan through. It had all this Spanish moss hanging down and I wanted to shoot that. This year someone had pulled down all the moss. It was still really nice, so instead I shot a regular pan around the tree with the cars backlit. And then my camera died. I think my shutter blew. Marc said he passed me in a golf cart and said I just looked really, really sad.
MU: (Laughing) I thought a track marshall yelled at him or something.
JP: Sunset at Sebring is NOT when you want your camera to die. I had two bodies. When you're racing against the sun, every minute you're not shooting matters. Once the sun is 15 degrees off the horizon, the track is just golden and filled with 100 different things you can shoot.
I always have a game plan for sunset. I had a 500mm lens on the camera body that died and a 70-200mm on the one that worked. Now I've got to change my lenses, which means I've got to stand around for a minute and slow down instead of just picking up the other camera and getting the shot I want. Who knows, Patrick Dempsey might throw it into a tire wall right in front of you and you might miss that shot, and then the whole course goes yellow and you've lost that opportunity for good.
You can miss a lot in those 45 seconds it takes to change a lens.
And after all his hard work, Jamey will have to cover the cost of his gear repair out-of-pocket. It's no picnic, this thing, but you'd never know it looking at these photos.
Each gallery (Jamey and Marc) includes more detail on where and how each shot was captured, including focal distance, shutter speed, and aperture settings. It's really worth a look. I love how Marc and Jamey shot under the same tree on the same afternoon, managed to not see each other, and then come up with radically different images. I love it, but I'm not surprised. That's what keeps them at the head of the pack, and on these pages, story after story and race after race.
---
About the author: Chris Cantle is the Web Editor at Road & Track Magazine. This article was originally published here.