Beautiful Colored X-Ray Photographs of Plants and Animals
Arie van't Riet isn't your typical photographer. In fact, he's not a photographer at all. Riet is a Dutch physicist-artist who has a knack for creating stunning colored X-ray images of nature that he calls 'Bioramas.'
Riet first began creating bioramas when a friend asked him to X-ray one of his paintings. The result was so compelling that Riet decided to keep experimenting and, before long, he had developed an impressive portfolio of images that get to the heart of nature.
Looking with X-ray eyes to nature. That's what I like to experience with my X-ray camera. I prefer X-ray objects of ordinary scenes like a butterfly near a flower, a fish in the ocean, a mouse in the field, a haron along the riverside, a bird in a tree and so on.

Each time it is challenging me to arrive at an X-ray photograph that represents the sentiment of the scene, do raise questions and excite curiosity. I hope, in most of the images presented here I succeeded.
From tulips to turtles, Riet photographs these objects using silver bromide X-ray film (similar to a black and white negative) after which he digitizes, inverts, and then colorizes parts of the image in Photoshop. The results are gorgeous: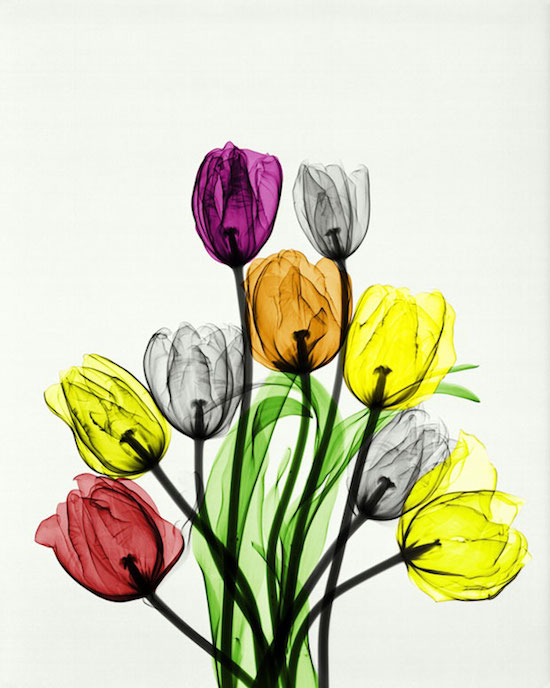 Here's a recent TEDx talk he gave in Groningen, in which he explains how a medical X-ray physicist became an artist:
For those of you worried about the critters in the images, there's no need. Most of them, according to One Green Planet, have already died and were in fact found outdoors or on local roads.
To see more of van't Riet's impressive work, head over to his website by clicking here.
(via Feature Shoot)
---
Image credits: Photographs by Arie van't Riet and used with permission.