Olympus Announces the Affordable E-M10, Calls it 'The OM-D for All'
Alright, it's time to set aside all the Fujifilm talk for a moment, because it's now Olympus' time to shine. Debuting tonight is the new OM-D E-M10. A camera that packs features from the E-M1 and E-M5 into a more affordable package that Olympus is proud to call 'the OM-D for all.'
Lets jump right into the nitty gritty of it. Inside this 'stylish, compact, all-meatal body' you'll find a 16-megapixel Micro Four Thirds Live MOS sensor, TruePic VII processor, 3-axis image stabilization derived from the E-M5 and E-M1's 5-axis system, Olympus' 81-point 'FAST AF' system, 8fps continuous shooting (unlimited JPEG or 20 RAW frames), 3.5fps continuous with tracking AF enabled, ISO expandable to 100-25,600 and a pop-up flash (a first for the OM-D lineup) optimized for 1/250th synchronization.
Excuse us while we take a couple of deep breaths… because that's not all.
There is also 1.44M-dot EVF with a 120fps refresh rate, a 100-percent field of view and a maximum magnification of 1.15x; a 3-inch tilting, 1.037M-dot touchscreen LCD; built-in WiFi that lets you join instantly by using your smart device to scan a QR code displayed on the camera's LCD screen, focus peaking, built-in interval shooting capability and more. The only thing conspicuously absent is weather sealing, which the E-M10 does NOT have.
Here's a quick look at the camera from a few more angles: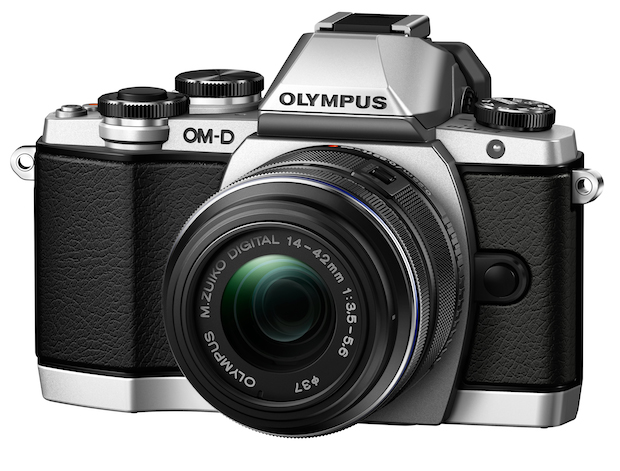 Two New Lenses and Other Accessories
Alongside the camera, Olympus is also debuting a ton of fancy new accessories, including two new MFT lenses, an 18mm equivalent f/8 fisheye bodycap, an ergonomic quick-release grip for those who want more to hold on to, a macro converter AND an auto opening lens cap.
The two new lenses are the most impressive of the remaining announcements. The first is the world's slimmest standard zoom lens: the super-slim M.ZUIKO DIGITAL 14-42mm f/3.5-5.6 EZ pancake zoom that measures just 0.9-inches thick and features electric zoom capability. And the second is the all-new M.ZUIKO DIGITAL 25mm f/1.8 portrait lens.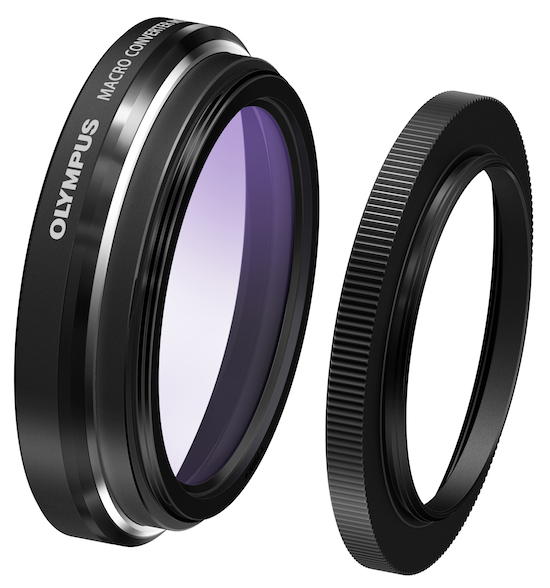 You can learn a lot more about all of these camera — in particular the accessories, which we didn't take too much time to go over here — by heading over to Olympus press center here.
Silver and Black versions of the OM-D E-M10 will arrive in stores in March, and will cost you $700 for the body only and $800 in a kit with the M.ZUIKO DIGITAL 14-42 mm f3.5-5.6 II R lens (mind you, according to the press release and our Olympus rep, that's not the new pancake lens… although it looks like B&H Photo has it listed as such).
Accessory release dates haven't been announced, but the 14-42mm pancake lens will cost $350, the 25mm portrait lens $400, the macro converter $70 ($65 on B&H), the quick-release grip $60, the fisheye bodycap $100 and auto lens cap price TBD.
---
Update: We've reached out to Olympus and have confirmed that the $800 E-M10 kit does indeed come with the 14-42mm f/3.5-5.6 II R lens NOT the EZ pancake lens that was also announced. They are reaching out to B&H Photo to rectify the mistake.