Nikon Reveals the AW1, the World's First Waterproof and Shockproof Digital ILC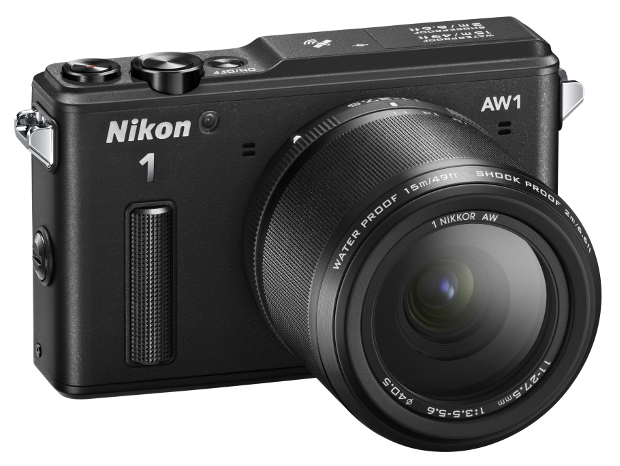 We told you yesterday to watch out for a "rugged" Nikon 1 announcement in the next 24-hours, and lo and behold, it happened. Introducing the Nikon 1 AW1, a camera Nikon is calling "the world's first waterproof and shockproof interchangeable lens camera," with a convenient asterisk added in for those of us who remember the Nikonos system.
The announcement is a nice change of pace because, for once, we didn't have a bunch of photo and spec leaks ahead of time. Thanks to a Nikon Rumors report, we knew to get excited about a rugged Nikonos-like waterproof camera, but only now that it's official do we really know anything about it.
Inside the waterproof, freezeproof and shockproof shell, the Nikon 1 AW1 is basically a Nikon 1 J3. You'll find a 14.2-megapixel CX sensor, an EXPEED 3A processor, ISO range between 160-6400, a 73-point AF array and the ability to shoot Full HD 1080p photos.
Of course, that's not why the AW1 is special. It's special because this particular ILC can go underwater to a depth 49-feet, withstand drops from as high as 6.6 feet and work in temperatures as low as 14° F. To further please adventure-seekers, it also comes with a waterproof pop-up flash, GPS, altimeter, depth gauge, electronic compass and virtual horizon indicator all built-in.
You can use regular Nikon 1 lenses with the AW1 (with help from an adapter ring), but as you might expect, a waterproof ILC requires waterproof lenses. And so, since people will no doubt intend to take the AW1 into the depths, Nikon has also released some waterproof glass to go along with the camera: an 11-27.5mm f/3.5-5.6 and a wide-angle 10mm f/2.8.
Both lenses attach securely to the camera like any other bayonet lens, but offer the same waterproof, shockproof and freezeproof statistics as the camera they were made for thanks to the lens' design and the cam's built-in O-ring.
If you're interested in owning the world's first waterproof and shockproof digital ILC, you won't have long to wait. The AW1 — in your choice of black, silver or white — is set to hit shelves in October as either a single-lens kit (with the 11-27.5mm) for $800, or a two-lens kit for $1,000.