Nikon Unveils Its 'KeyMission' Action Cameras, Including a 4K 360° Camera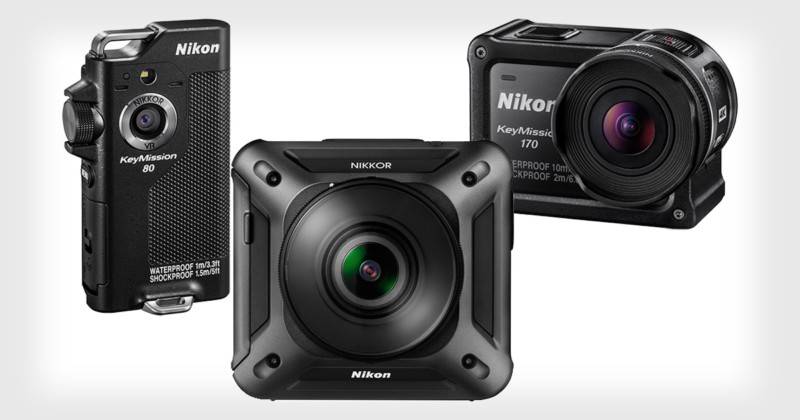 The first KeyMission action camera was announced way back at CES, but Nikon hasn't been sitting around since then. They've developed two more cameras, and yesterday they debuted all three to the world with full details, release dates, and prices.
GoPro kind of stole the action camera show yesterday by finally revealing the Hero5 Black and the all new Karma Drone/System. But it wouldn't be fair to ignore another big piece of news: Nikon just threw its hat in the (very competitive) action camera ring.
They KeyMission cameras come in three flavors: 360, 170, and 80. Each number indicates the field of view of the camera, and its place in the KeyMission "hierarchy." Let's take a look at them one at a time.
Nikon KeyMission 360
The KeyMission 360 was first announced back in January, but Nikon left out most of the major details. Basically, we knew it would shoot 360° 4K and that's about it. We know a lot more now.
The camera boasts two 20MP sensors—one on each side—that capture the world in 360° through bright f/2.0 lenses. It's capable of shooting both 1080p and 4K UHD footage, automatically stitching the two views together in-camera so you don't have to do any work in post. Photo-wise, it can shoot 30MP 360° stills, and features modes for "Superlapse," "Time-Lapse," and "Loop Movies" for a little bit of creative flexibility.
Finally, as with any good action camera, it's rugged. The KeyMission 360 is waterproof to 30 meters (~98ft), shockproof from 2 meters (~6.6 feet) and freezeproof to -10°C (14°F) out of the box—no housing required. Here's a closer look at this camera: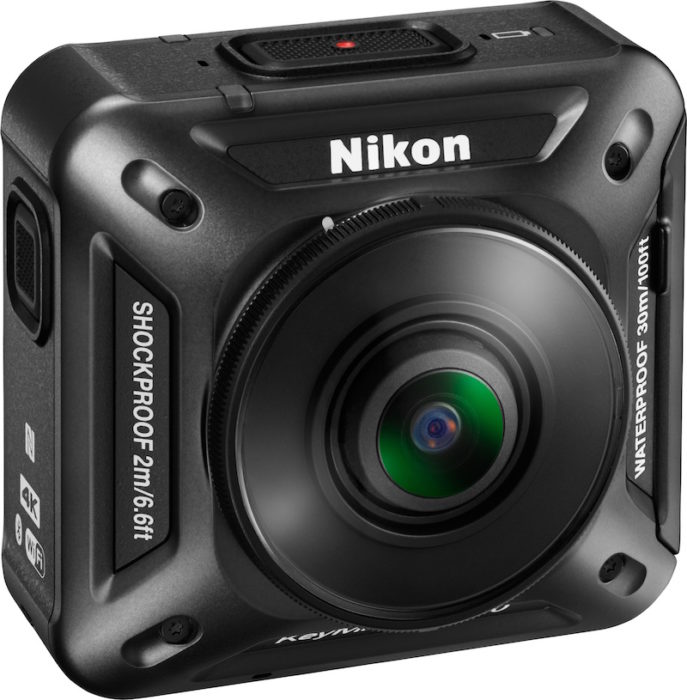 The KeyMission 360 will be available in October for $500. Pre-order is already live on B&H Photo.
Nikon KeyMission 170
The KeyMission 170 is the GoPro Hero5 Black competitor/clone of the bunch. With a form factor that looks a lot like the GoPro, it offers 170° field of view through an 8.3MP CMOS sensor and f/2.8 lens capable of capturing 4K UHD footage, which you can preview and control from the LCD on the back.
It also features "Electronic Vibration Reduction" (read: electronic stabilization) to keep your footage smooth, and Highlight Tagging, slow motion, timelapse, and loop recording.
Out of the box, the KeyMission 170 is waterproof to 10 meters (~33ft), shockproof from 2 meters (~6.6ft), and freezeproof to -10°C (14°F), although you can purchase a separate underwater housing that extends that waterproof capability all the way to 40 meters (~131ft).
Take a closer look:
Like the 360, the Nikon KeyMission 170 arrives in October. It'll cost you $400, and you can already pre-order it on B&H Photo.
Nikon KeyMission 80
The entry-level camera of the bunch, the KeyMission 80, looks a bit like an evolution of the old Flip video cameras. It's not so much an action cam as it is a wearable 'lifelogging' camera, and as its name implies, it offers you an 80° field of view.
Using the camera's 12MP CMOS sensor, f/2.0 lens, and timelapse function, you can nap the camera to yourself and let it capture 1080p video or 12MP stills at an interval while you go about your adventuring. And just in case you want to use the hashtag #butfirstaselfie, the KeyMission 80 also sports a 5MP front facing camera with an f/2.2 lens.
Nikon is clearly trying to offer adventurous camera users a smartphone alternative that is no less convenient. The camera turns on automatically when unclipped from its holder, can transfer images easily using Nikon Snapbridge and Bluetooth connectivity, and features a 1.75-inch touchscreen on the back that "lets users easily change settings, frame shots or play back captured content."
Like its brethren, it too is rugged, although not to the same extend. It's waterproof to 1 meter (~3.2ft), shockproof from 1.8 meters (~6ft), and freezeproof to -10°C (14°F). Here's a closer look: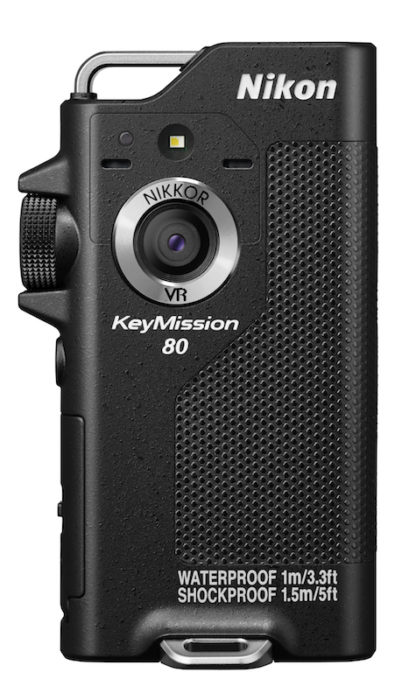 As with the previous KeyMission cameras, the Nikon KeyMission 80 will hit store shelves in October. This one will cost you just $280, and yes, you can already pre-order it on B&H Photo.