An Interview with Eric Draper, George W. Bush's Presidential Photographer
If you haven't been living under the rock for the past ten years, chances are you've seen a photo captured by Eric Draper. That's because he was the official photographer of former U.S. President George W. Bush.
Draper's eight years in the White House were nothing short of intriguing. From capturing the now-iconic photos of President Bush on September 11th to the handing over of leadership to Barack Obama in 2009. His unfettered access to the Presidency gave us some insight as to what life is like in the "bubble."
We recently had a short chat with Draper and asked him a few questions about his time in the White House:
PetaPixel: Can you tell us a little about yourself and your background?
Eric Draper: I was born and raised in the city of Los Angeles. My mother was a seamstress, dad an artist, my grandmother was a famous song writer — so I think I was blessed with the creativity gene.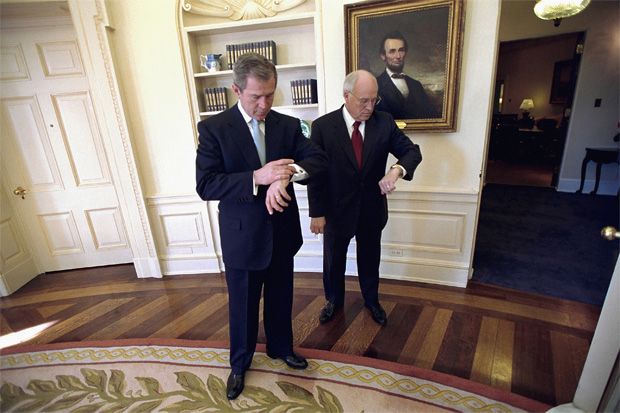 PP: How did you get started in photography?
ED: My sister gave me my first camera. A Kodak Instamatic 110 camera. I took it on a YMCA camping trip when I was 12. My mom loved the photos so much she had them mounted and framed around the our home. By the time I finished high school I knew I wanted to pursue photography as a career.
PP: How did you come to be President Bush's photographer?
ED: My road to the White House started without me realizing it. As a staff photographer for the Associated Press, I was assigned full time to cover Texas Governor George W. Bush, who had just announced he was running for President.
Becoming the White House photographer was never a plan or an idea until after the election in November of 2000. The Florida recount gave me the opportunity you to pursue the position. During that time, I learned that no one had been selected and I saw a golden opportunity to step up and ask.
That's what I did at a Christmas party in Austin, Texas. Governor Bush had just become President-Elect Bush and the timing was perfect. I said to him, "I want to be your personal photographer."
That was the longest handshake in the world. A week later I was back in Austin for my interview with Chief of Staff Andy Card.
PP: You've noted in past interviews that when you started your job as the President's photographer, the White House was a number of years behind on film processing. Can you talk more about that and what your role was in getting things up-to-date?
ED: The White House was technically behind the times when I walked through the doors for the first time. I was on the cutting edge of digital photography at the Associated Press and I knew it was just a matter of time. The photo office had a long tradition of being supported by the military. Film negatives and wet prints were part of the process. The challenge was developing a digital work flow that could handle the volume of images.
It took nearly two years to design and implement new hardware, software and develop a workflow. It was one of the hardest projects I ever had to oversee. The toughest decision was to disband the military lab.
PP: How grueling of a job would you say it is? What was a typical day like?
ED: It was the hardest job I ever loved. The hours were long and the responsibility of running the photo office was a 24/7 job. Every hour of the President schedule had to be documented including the schedule of the First Lady and Vice President.
There was no typical day, which made the job very exciting for the entire 8 years. There was plenty of routine but every day felt like an adventure. Capturing the surprise story telling moments is what I enjoyed the most. My goal was to cover the presidency like a long-term photo story.
PP: Some of your most seen photos from the Bush administration come from September 11th. What was that day like for you as a photographer documenting the presidency?
ED: The day started out like a routine domestic trip. It abruptly turned into a surreal nightmare that would not end. I struggled with my emotions the entire day. Everyone in this country remembers where they were and how they found out. After my initial shock, it was crystal clear what I had to do: focus on the President and not let him out of my sight.
I don't think I slept the entire week following 9/11. It was an emotional roller coaster. It took me years to sit back and digest what I witnessed.
PP: As the presidential photographer, no doubt you spent plenty of time around President Bush and his family. Was there any time he said "no photos"?
ED: There was never a time when the answer was "no". Through time I learned how to pick and choose my moments. I was always invited to family gatherings. I found myself holding back because the family had so little time together.
I spent every major holiday with the Bush Family, including every Christmas at Camp David for 8 years. They are a wonderful family. What amazed me the most is how normal they are even though they are always in the spotlight.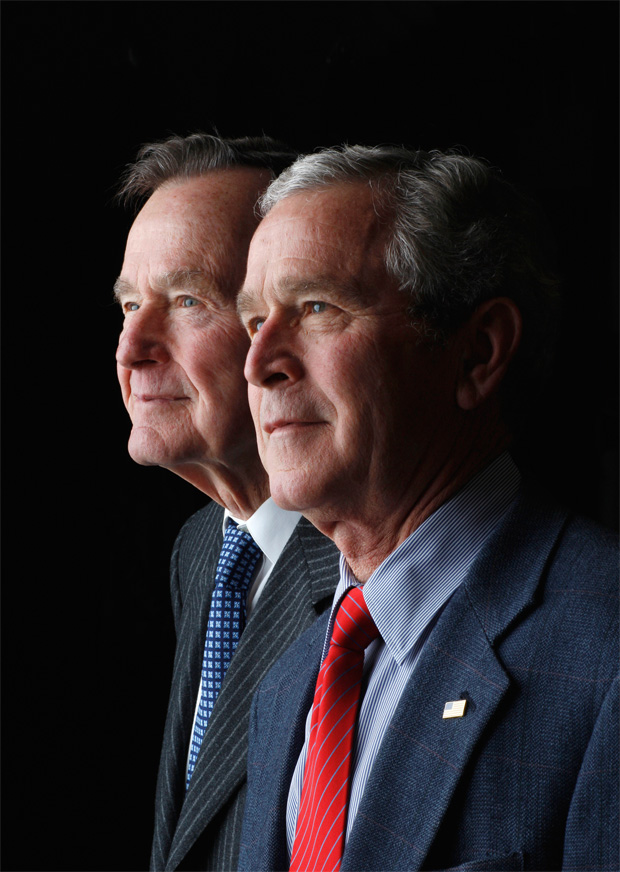 PP: What were some of the challenging moments working as the presidential photographer from, well, a photographer's standpoint?
ED: The most challenging moment was photographing the President Bush meeting with the families in New York City after touring Ground Zero on September 14th, 2001 — just three days after the 9/11 attacks.
It was like standing on a raw nerve. The feeling of loss and sadness. The fact that no survivors were being found at the time. The families had photos of the missing and hand written notes. "Have you seen my father? Have you seen my mother?" It was hard to lift the camera. I was confronted by a few man who were not happy I was there. I had to balance their privacy with the historic significance of moment.
PP: How did you manage to keep photos of the same man, day after day, fresh?
ED: There was a lot of routine to covering the presidency but being in the inner circle I could see the behind the scenes stories evolve through time. My experiences never got old. There was always a story to document day-after-day and the trips to the President's ranch in Crawford, Texas helped to break things up.
I always pushed my self to stay creative and look beyond the obvious.
PP: Is there anything you look back on and say, "I wish I had changed that"?
ED: No, but I tried to learn from my mistakes and sometimes I had to learn the hard way. I will share a story from my book "Front Row Seat."
On Inauguration Day, January 20, 2001, my first full official day on the job, President Bush and First Lady Laura Bush escorted President Bill Clinton and First Lady Hillary Clinton down the south steps of the Capitol to their waiting motorcade.
I jumped in a nearby minivan, thinking it was time to return to the White House. I didn't recognize anyone in the van. Turned out, I was in the Clinton motorcade. Behind me, I heard Clinton photographer Ralph Alswang say dryly, "Uh, Eric. Your guy is staying." I jumped out of the van and caught up with the President Bush and Mrs. Bush like nothing happened.
PP: You hopped on board and photographed Mitt Romney and Paul Ryan during the last election. Had Romney won the ballet and chose you to be his photographer, could you have seen yourself spending another 4-8 years in the White House?
ED: I never thought I could ever be in a position to go back to the White House [but] I have learned to never say never.
PP: You mentioned your book, "Front Row Seat." Can you tell PetaPixel readers a bit more about it?
ED: "Front Row Seat" is a coffee table book of photography on the presidency of George W. Bush. It chronicles my eight years as the chief White House photographer. 149 photographs, some never before seen, tell a visual story of the 43rd president not only as commander-in-chief but as a husband, father, and dog owner. Its a view of the entire presidency from the dramatic moments of 9/11 to intimate moments within the Bush family.
PP: Finally, what's next for Eric Draper?
ED: I am growing my photography business with a diverse group of clients from editorial to commercial, and I plan to stay in the political world.
---
A very warm thanks to Eric for spending some time answering our questions.
You can check out Draper's book, "Front Row Seat", here. For more information about Eric Draper, visit his official website.
---
Image credits: Photographs by Eric Draper and used with permission.