Attending My First Portfolio Review After Thirty Years as a Photographer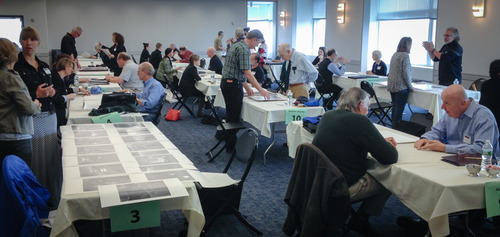 Having made it through over 30 years as a commercial photographer and photography teacher, I find it daunting, at this stage in my life and my career, to feel the need to seek advice and assurance from professional peers. But participating in the New England Portfolio Reviews this past weekend turned out to be one of the best things I've done for my creative self in a very long time.

Jointly hosted each year by the Photographic Resource Center at Boston University and the Griffin Museum in Winchester, MA, the event drew scores of New England photographers to the ninth floor of BU's Photonics Center to see if they had what it takes to be the next big thing. I was there in the hopes of discovering a clue as to what the next thing (big or otherwise) might be for me, whether as a photographer, a writer, an educator, or even eventually as a reviewer.
While I have become so much more confident in my abilities as a photographer and an artist in recent years (mostly as a result of teaching), I'm also keenly aware that the more I learn, the less I know. Even though I act as critic and coach for my students' work on a daily basis, it took a significant effort on my part to get ready for this weekend. And as excited as I was, even when I was sure that I was ready, I was also afraid that I wasn't.
So many of the reviewers I met asked me (nicely) why I was there and what I wanted them to tell me, the implication being that they knew that I knew that I had an interesting and relatively strong set of pictures to show them. Implicit in that question also was the fact that they assumed that I knew that whatever they would tell me would only be their subjective opinion of my work, and that in all likelihood they could offer no magic advice or career-changing connection. They knew I knew that nobody was going to offer me a show, gallery representation or a book deal simply on the basis of a 25 minute consultation at a cattle call. But I hoped they knew that what they each said to me, taken in its totality, was greatly appreciated, and has helped give me the confidence to take the more difficult next steps.
So what did they say?
Universally, everyone seemed to think I was a pretty good photographer, and that both the concept and content of my work is strong. They all remarked on the quality and of my prints, all of which I had chosen and printed specifically for the review.
I seemed to split folks into 2 camps when it came to the color work, some loved it and some thought, as I do, that the black and white stuff is more important. In fact, the response to what I suppose you would call my editorial street photography was overwhelmingly positive. Everyone mentioned its consistent narrative quality, the sense that I am trying to create iconic imagery that actually says something as opposed to just showing something.
However, documentary photographer Michael Hintlian warned me against trying to say too much through the use of signs and other literal prompts that often appear in my pictures. He urged me to keep trying to find the balance between hitting my viewers over the head with what I want them to think and showing them just enough to let them come to that conclusion on their own.
Hintlian, whose work I have admired for many years, gave me perhaps the strongest specific critique of all the reviewers. At one point, he reacted noticeably to an image I had cropped into a more panoramic shape than all of the others I'd kept in their native 2:3 aspect ratio. "What happened to your beautiful rectangle here?", he asked, and after a few minutes trying to justify the crop, I promised him that I'd go home later and try it his way. I did, and he was right.
Neal Rantoul, Professor Emeritus at Northeastern University, asked me maybe the question of the weekend. We were talking about our respective approaches to our work– he's a landscape shooter using traditional large format film cameras as well as high resolution DSLRs, and I have great affection for the process I like to call "walking around taking pictures". Perhaps thinking out loud, he asked me "do you ever feel like contemporary photography has left you behind?"
Boy, do I. It troubles me greatly that the rapid democratization of media and the ease of access to its tools and tricks seems to have rendered the simple recording of an intriguing moment without manipulation or unnecessary surface effect somewhat quaint.
We talked a lot about printing. Neal chose to qualify the format for the portfolios he would review as print presentations only, not iPads. I'm certainly not a Luddite– I love my iPad, my FolioBook portfolio app and my liveBooks website, but I find it sad that anyone would even have to make that distinction at such an event. "So few photographers know how to print well any more, or think that it's even important", I said. "At what point did we decide that it was no longer necessary to commit fully to an image by printing it?" Apparently, I was preaching to the choir on that one.
Neal and I also found ourselves inadvertently continuing the discussion the next morning when we bumped into each other at a nearby coffee shop. While we were there, his close friend and fellow reviewer Jane Tuckerman pressed her face up against the window and stuck her tongue out at him. Before I knew it, the former chair of Harvard's photography department and current professor at the Art Institute of Boston perked things up by recounting her hilarious adventures teaching in Italy and bicycling through Croatia. I only wish that she had been one of my reviewers!
As he flipped from print to print, Clark University professor Frank Armstrong kept telling me how much he was enjoying looking at my images. "I really don't know what I can say to you- maybe this one here is a bit too saturated?" It was a very colorful night scene on the Santa Monica Pier, a personal favorite, but I decided to take his suggestion to heart. Once again, the new print with a little of the edge taken off the color is better. Much better.
Listening to Akemi Hiatt, an independent curator from New York, brought to mind something that Helmut Newton once said- "Look, I'm not an intellectual, I just take pictures!" She saw deeper meaning and messages in some of the images that, frankly, had never even occurred to me, and she made me wonder whether I'm actually smart enough to be as good at what I do as I think I am. Her unexpected but welcomed insights proved the point that we make with students all the time: it takes two people to complete a photograph: the photographer and the viewer.
And Barbara Hitchcock, the former curator of the Polaroid Collection, even said to me "If I was still collecting, I would buy some of these." Had she really suggested that, had she seen my work during her tenure as the keeper of Edwin Land's photographic treasure trove and other important archives, she might have added a print or two of mine to one of those stellar stacks? You bet she did.
I could keep going, but you get the idea.
Since I started teaching in 2005, I have worked with many hundreds of photography students, first at New England School of Photography, and now at Boston University Center for Digital Imaging Arts. I've critiqued thousands of their photographs. This weekend was the first time I had ever submitted myself formerly to the same process. The multi-faceted goals I had hoped to achieve were more than met. I wanted to make the connections that might strengthen and advance my teaching career, to build confidence about the value and relevance of what I do as an artist, and to learn more about how portfolio reviewers look at and talk about photography.
Most importantly, I wanted to find renewed inspiration to practice what was best described by Jack Kerouac writing in The Americans; how Robert Frank "sucked a sad poem right out of America onto film". Those words still give me chills when I repeat them, and they define why I continue to be a photographer in an age when everybody is a photographer.
---
About the author: Randall Armor is the Director of the Professional Photography Certificate Program at Boston University Center for Digital Imaging Arts. For more information, visit his website at armorfoto.com. This article originally appeared here.