Infographic Maps Out the Landscape of the Photography Industry
The company LUMA Partners has gotten in the habit of occasionally mapping out various industry landscapes to show how a product or service gets from Point A (i.e. the creators, marketers, businesses, etc.) to Point Z (i.e. the buyers, brands and publishers), going through the rest of the alphabet in between.
Taking a leaf out of their book, director of kbs+ Ventures, Taylor Davidson, decided to borrow their format and do the same thing for the photography industry, mapping out how content gets from the photographers out into the world of consumers, brands and buyers.
The graphic covers everything: you've got your camera manufacturers (and phone manufacturers, of course) leading out to stock photo, advertising and e-commerce agencies through a combination of post-production software, photo management sites and sharing networks. Simple as "point and click" may be, the industry itself is actually pretty packed and complicated.
Here's the infographic (clicking on it will get you to a high-res version):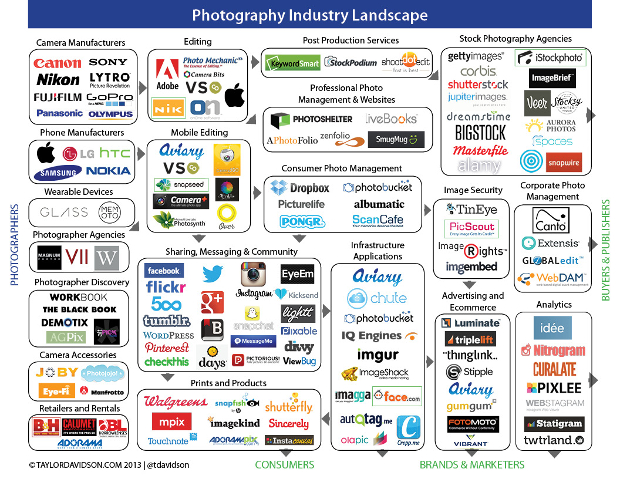 According to Davidson, the infographic does a particularly good job pointing out all of the companies and market segments that only exist because of the advent of digital and smartphone photography. The most striking changes in the photography landscape have taken place within the last 5-10 years, and they keep coming faster and faster.
Davidson makes sure to note that the graphic shouldn't be considered a comprehensive list of every company that inhabits this Serengeti of photography. What he hoped to achieve with the graphic is to show investors and the curious alike a visual representation of how the industry has evolved, where it is growing most voraciously, and where the best investment opportunities lie.
To find out more, head over to Davidson's website for the full breakdown.
The Photography Industry Landscape [Taylor Davidson via The Next Web]
---
Image credit: Through the Lens by JustinJensen