Prime: How One Programmer is Hoping to Tackle "Photo Consumption Fatigue"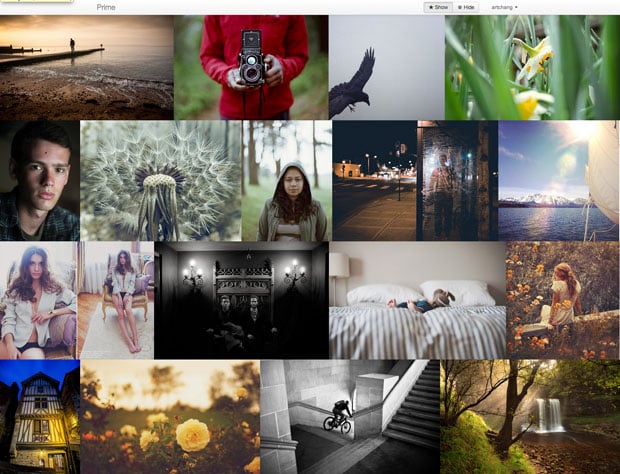 Photo sharing is "in" these days. Just look around, and you'll find that pretty much every major social network has it as a major pillar of their service. Facebook is the largest photo sharing site in the world by volume. Google+ has all but absorbed the once powerful Picasa brand.
With so many services competing for your pixels, it's getting harder and harder to keep up with the best images from your contacts. It's something developer Arthur Chang calls "photo consumption fatigue," and he believes he has a solution.


Chang is a San Francisco-based software developer and photographer who has been spending his nights and weekends on a project he calls Prime (Chang works full time as a lead technical architect at beRecruited after they acquired his previous startup in 2011).
What he's building is a service that simplifies (and beautifies) the process of browsing photos, interacting with them, and then discovering more photos you enjoy.
One of its main strengths will be its ability to filter out "bad photos" (e.g. duck faces, horribly exposed images) in order to only show you what's worth seeing. Simply put, it's removing noise to boost the signal.
Chang claims that in his tests, he found that Prime was able to increase daily photo consumption for its testers by a factor of 5x, simply by making the photo consumption process better. "Little things all added up to something that is proving to be really useful," he says.
So here's how Prime works: it's a tool for giving you the best view of all your contacts' photographs, no matter which platform (e.g. Flickr, Facebook, 500px) they use.
To do this, Prime has a special way of ranking photographs across platforms, using things such as view counts, comment counts, likes, a photographer's "Klout," and visual cues within the photos themselves. In other words, the app will be able to "see" things such as detail, golden ratios, rule of thirds, and then use those things to guess whether a photo is worth looking at.
In addition to fancy number crunching on individual photos, the app will also attempt to make entire gallery pages beautiful to look at. Not only do the pages use a Justify View (much like what you see on Flickr), but they also take subject matter into consideration. Prime tries to coordinate subject matter (e.g. putting all the mountain photos in the same row) and colors (e.g. making a gallery look nicely in terms of color themes) to boost the aesthetics of the interface.
For ease of use, Prime will feature keyboard shortcuts and "quick actions". You'll be able to favorite a photo by simple hovering your mouse over it and hitting "f," for example. Chang says it's like a "power user sort of tool" that he's trying to bring to mainstream photo browsing.
Finally, the feature Chang is most excited about is photo discovery. In addition to viewing any photographer's "best" photographs across all platforms, users will be able to access any other user's browse page. Have a photographer whom you follow and admire? You can check out the photos he or she is being inspired by.
So far, early testers of the app are returning to it an average of three times per day. Chang is planning to open up the service to alpha testers soon as soon as he can gather more server power for the service (he's funding it entirely on his own for now). You can sign up for early access through this landing page.
If Prime — or any service like it — takes off, photographers will likely enjoy a noticeable uptick in views as more people spend more time enjoying more photos online.