A Photographer's First Hand Account of the Sandy Hook School Shooting
On the morning of December 14th, 2012 I found myself scanning the redundant array of social media apps on my phone. Just as I was about to pry myself out of bed, I had come across a recent twitter post by one of my fellow graduates of Newtown High School. In just a few minutes I would learn that my former hometown elementary school had become the site of one of the most horrific school shootings that this country has ever seen.


My stomach hit the floor and my senses ignited as I sprung upwards in an instant. My initial thought was "Holy sh**. I hope my little brother is okay." My little brother is a 5th grader in the Newtown school district, while my younger sister attends the high school. I began to search frantically for any local news reports online. Sure enough "Sandy Hook Elementary School shooting" was a top-headline, and the entire world would come to know the unthinkable details in a few hours.
Momentary relief had graced my thoughts knowing that neither of my younger siblings were students at the school involved. I was convinced for about an hour that everything was just a big misunderstanding, that the initial news crews had been misinformed on the nature of the crime. However something had already felt horribly wrong. Suddenly, I had received an unexpected email from a photojournalism agency in London, who had come across my information while searching for "newtown photographers" on the Internet.
Less than three years ago I had moved away from home in Newtown to pursue my photography career in the central part of Connecticut. Once a week, time-permitting, I have made a habit of taking the one-hour drive back to Newtown to visit family and spend time in a place that I've called home for as long as I can remember. Feeling a particularly powerful sense of obligation, I threw on some proper clothes and grabbed my camera on the way out the door, with none of my usual gear. Realizing that I would be responsible for personally documenting the following events, I felt like I had not one second to waste.
Ignoring literally every posted speed limit, I managed to knock the one-hour drive back to Newtown down to a 40-minute trip. Knowing Sandy Hook school like the back of my hand I was on a frantic mission to get on scene as soon as possible. Just as I was closing in on the location, initial details began to emerge. "At least 18 reported dead in Newtown school shooting". Everything in me was then taken over by the realization that this was far worse than I had initially thought. I was going to have to accept that this was likely to become emotionally taxing and potentially even dangerous.
Treadwell Park was now up ahead on my left, less than a mile from the school's grounds on the desolate back roads of Sandy Hook. An armada of hovering helicopters came into view above the tree line, as if I was suddenly dropped into a Hollywood movie set. The road leading up to the school was completely blocked off by police and emergency vehicles. I pulled onto a side-street across from the school and parked rather haphazardly. Upon stepping out of the car, I could feel the chopping helicopter blades pulsating through the air surrounding Sandy Hook School and myself.
It had felt so much like a bad dream, there was a cold sensation taking over everything, despite the beaming sunshine that lit up the scene. Hundreds of personnel were flooding the intersection in endless waves. Someone ran in the opposite direction yelling into their cell phone "20 children are dead in the school, Parents haven't found their children". Terror surged through my veins and I remember my feet and fingers were shaking uncontrollably as I walked closer. Approaching the firehouse at the entrance to the school, I saw families, kids, and parents panicking and running amongst the sporadic maze of police cars flooding the intersection. Every inch of land I was standing on was now seen in a drastically different light, no longer an untouched memory from my childhood.
I spent about three minutes standing amongst the chaos before recalling what I was there to do, and I abruptly began capturing photos that I felt would be relevant in documenting a situation of this nature. Three minutes is the same amount of time that it took Adam Lanza to storm the halls of Sandy Hook elementary school, cutting 26 innocent lives short with his mother's AR-15 assault rifle. There is an unprecedented level of ferocity involved with that realization, which will haunt my thoughts for a long time as I try to understand why. I cannot even imagine the fear that the victims had endured, or the terror that the first responders had faced with undaunted courage and duty when they arrived on scene.
I spent the remainder of the morning trying to continue to do my job to the best of my ability. But it became clear that there was nothing myself or the dozens of heavily armed policemen could do to help anyone, other than to remain sensitive to the families of these victims who's lives had been shattered without warning. The damage was done even before the first responders had arrived, and the grieving process was only just beginning for the families of this community.
Moments later, Connecticut Governor, Dannel P. Malloy, had arrived on scene with an evident sense of disbelief upon being briefed on the confidential details of the shooting. A press release was about to be made down the street at Treadwell Park, which was to be broadcasted by all the major networks. International news crews had begun to set-up shop over the formerly empty sidewalks and peaceful streets of Newtown for as far as you could see. There were now hundreds of experienced professionals here to take over my temporary role as a photojournalist.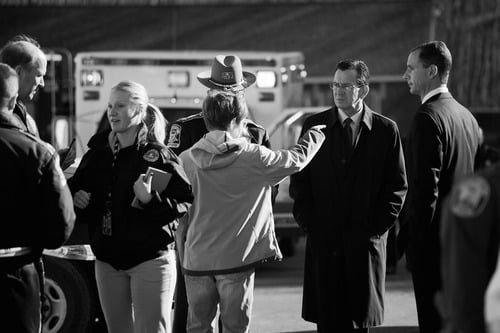 I didn't realize how deeply the pain and suffering I had witnessed that day would grab hold of me as badly as it had during the following weeks. I was perpetually fighting back tears any time my mind wasn't fully preoccupied, and I was finding it extremely difficult to concentrate long enough to go about any sort of normal routine. To this day I cannot stop replaying everything over and over again. Everything that happened makes me feel angry, upset, frustrated, confused.
Having gone to the same high school and primary schools as the shooter, I cannot get the distinct image of him out of my head. I had known him only as an extremely quiet, painfully shy underclassman. You simply couldn't go throughout the day without noticing Adam Lanza. He would pace rapidly around our hallways as if constantly late, with the same over-sized dress shirt and black briefcase every day of the week. You would never see him without his eyes peeled open, staring into either a corner or the floor as if someone was going to harm him for looking in their general direction.
I always felt bad seeing him in such a painful trance day-in and day-out, I couldn't imagine how awful that must've felt. I just don't think anyone would've ever been able to predict him doing anything violent or hurtful, there was nothing to hint at the possibility of such a rage-induced act. Yet I will never stop asking myself if something could've been done by myself or my peers to prevent this tragedy in the first place.
Two days prior to the events that transpired, I was talking to my girlfriend about the unmatched aura that surrounds the town of Newtown. "It's the only safe place to raise kids," I had confidently preached, "you just feel secluded from all the negativity that resides elsewhere in the world". This particular Friday the 14th might have proven very differently, but I do not regret what I had said about my hometown. The essence of Newtown is of a very different breed, it is something I have come to terms with not being able to live without. To this day I still enjoy sneaking into the "prohibited" grounds of the abandoned Fairfield Hills hospital late at night, admiring the massive 360-degree view on top of Holcombe Hill, or just driving through the scenic back roads of Sandy Hook, which are all-but lacking in lush forestry and rolling farmlands. However, all of these things will feel different from here on out, and that is something I am learning to accept.
I suppose it was just terribly bad luck, combined with the troubled mind of local Adam Lanza, which allowed such terror to unfold in this community. There is a new weight that the remaining survivors of Newtown will have to take on and it seems like a task that will take a long time getting used to. We owe it to these torn families to live our lives honestly, and to the absolute fullest from this point forward. "For those of us who remain, let us find the strength to carry on, and make our country worthy of their memory." (Barack Obama, 12.16.12)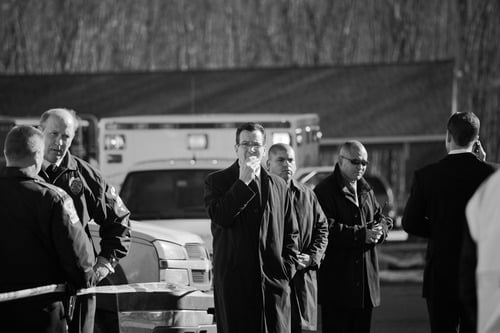 Never forgotten: Charlotte Bacon, Daniel Barden, Rachel Davino, Olivia Engel, Josephine Gay, Ana M. Marquez-Greene, Dylan Hockley, Dawn Hochsprung, Madeleine F. Hsu, Catherine V. Hubbard, Chase Kowalski, Nancy Lanza, Jesse Lewis, James Mattioli, Grace McDonnell, Anne Marie Murphy, Emilie Parker, Jack Pinto, Noah Pozner, Caroline Previdi, Jessica Rekos, Avielle Richman, Lauren Rousseau, Mary Sherlach, Victoria Soto, Benjamin Wheeler, Allison N. Wyatt
Please consider offering support to those who have been directly impacted by this horrific tragedy.
---
About the author: Roger Sieber is a photographer and filmmaker based in Manchester, Connecticut. Visit his website here. This article originally appeared here.