Photographer Behind Iconic Football Pic Sues Player for Copyright Infringement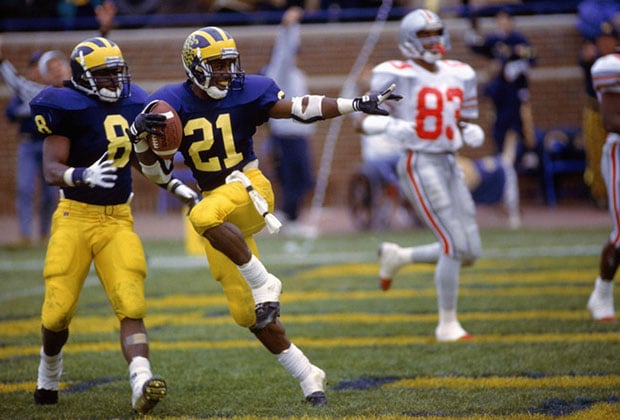 This famous photograph of legendary football wide receiver Desmond Howard is currently in the midst of a nasty legal battle. The photographer behind the image, Brian Masck, is suing Howard and a host of companies, claiming that his photo has been used without his permission for years for all kinds of commercial products and purposes.

The image was shot 22 years ago in 1991 after Howard caught a touchdown against Ohio State and struck the famous Heisman Trophy pose. He would go on to win the trophy later that season.
Masck's photo was published in Sports Illustrated in December 1991, which landed him $500 and a credit line. The photograph quickly went "viral" around the country, appearing in various places in ways he never consented to.
A few years ago Masck noticed copies being sold at a Sam's Club. That same year, Nissan ran an advertisement in Sports Illustrated featuring the photo. Howard used the photo on his personal website in 2011. Amazon and Wal-Mart sold various products featuring the image through their websites.
In 2011, Masck contacted Howard, who asked to purchase the copyright of the photo. When Masck suggested a price of $200,000 to $300,000, Howard walked away.
Later that year, Masck finally officially got the photo certified by the US Copyright Office. Now, 17 months later, he's pulling out the legal guns in an attempt to collect some of the money that he claims he's due.
Here's a copy of the lawsuit, in case you'd like to read it yourself:
According to the Detroit Free Press, Masck may be a little too late in filing the lawsuit. The paper quotes IP law expert E. Leonard Rubin as saying,
There is a defense to lawsuits called 'laches,' meaning that the owner of rights has slept on his/her rights too long and therefore lost them. Masck has known of at least some of the various uses about which he now complains for around 20 years and did nothing. He may have lost his rights.
The statute of limitations for copyright infringement is three years, so Masck is only suing for the various unauthorized uses that have occurred over the past three years.
(via Detroit Free Press via DPReview)