Light-Painting with a Blizzard by Pointing a Projector at the Falling Snow
Earlier today, we showed you a number of time-lapse videos of Winter Storm Nemo that were created by people who were stuck indoors due to the heavy snowfall. New York-based photographer Brian Maffitt was also stuck indoors and he also turned to photography, but instead of shooting time-lapse photos, he turned to a different technique: long-exposure light painting.
His technique is rather interesting: instead of a flashlight, Maffitt projected a movie onto the falling snow in order to light up the snowflakes.

Maffitt tells us that he has been experimenting with long-exposure and low-light photography for a number of years now. He did try to use flashlights at first, but they didn't provide enough light to illuminate the snowfall.
He then pulled out his old video projector, loaded up the movie "The Lorax," and pointed it out his upstairs window into the darkness. You might be wondering why Maffitt chose the movie he did. Here's his explanation:
It was at the top of the list under "Children's Movies" on Netflix. I assumed a children's movie would give me a nice selection of saturated colors, as opposed to using something like "Citizen Kane". However, when the snow got blowing really fast, the intended colors were lost, replaced by pure red, green, and blue dots, produced by the rotating color wheel on the front of the single-chip DLP video projector. It proved to be an extremely fortunate confluence of nature and digital.
He says it was difficult to find the right combination of background and settings, but after an hour, he settled on using a pine tree outside his bedroom window as the backdrop.
In terms of technical details, Maffitt was shooting with a Canon 7D. The projector was an Optoma DLP that was connected to an Apple TV set.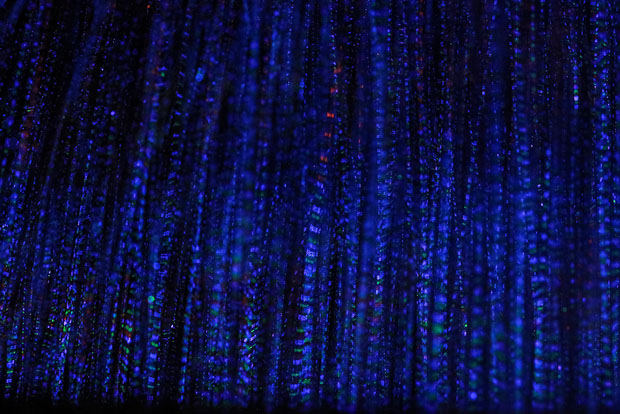 In addition to still photographs, Maffitt also shot this video that has attracted quite a bit of attention over the past few days:
You can find Maffitt's complete set of blizzard light-painting photos over on Flickr.
Projector Snow [Flickr via Laughing Squid]
---
Image credits: Photographs by Brian Maffitt and used with permission