Fujifilm F900EXR Compact Claims Crown for World's Fastest Autofocus
Fujifilm launched a number of new compact cameras this week. While most of them offer rather pedestrian improvements on older models, one of the models comes with a rather eye-catching claim: the new FinePix F900EXR is said to feature the world's fastest autofocus system found in a digital camera.


The camera, called a "travel zoom" camera by Fujifilm, features a 16-megapixel backside-illuminated CMOS sensor inside a small body. Despite its small form factor, it still packs a Fujinon 20x optical zoom lens starting at 25mm (35mm equivalent) on the wide end and extending to 500mm on the telephoto side.
Fujifilm has continued its trend of focusing on speed. The camera can focus on a subject in as little as 0.05 seconds thanks to a new phase detection system that uses special new pixels on the camera's sensor — the same system found in the new X20 and X100s.
The new X-Series cameras can focus in 0.06 seconds. This compact camera beats them by 0.01 seconds.
Fujifilm states that the F900EXR can automatically choose between Phase Detection and Contrast Detection AF based on what you're pointing the camera at, optimizing how quickly it locks onto the subject.
Other facets of the camera's speediness include a startup time of 1.1 seconds, a between-shot delay of 0.5 seconds, and a burst mode of 11 frames per second (for a maximum of 5 frames).
Unlike the X20, which features a 2/3-inch sensor, the F900EXR packs a smaller 1/2-inch one.
Additional features include wireless beaming of photos to smartphones and computers, Wi-Fi, HD video recording at 60fps (and phase detect AF), the option to shoot still photos during movie recording, filters for adding effects to your photos, multiple exposure photography, 360-degree panorama creation, film simulation modes, a 3-inch 920K dot LCD, full manual controls, and RAW shooting.
Color options include black, red, gold, and navy blue: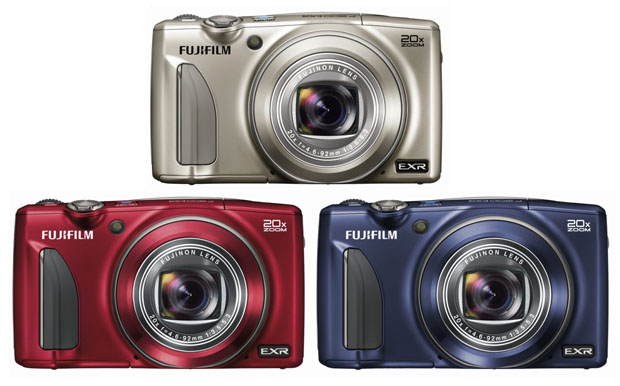 The F900EXR will hit store shelves in March for $400.