Hands On with the Fujifilm X100s and X20, Pricing and Availability Revealed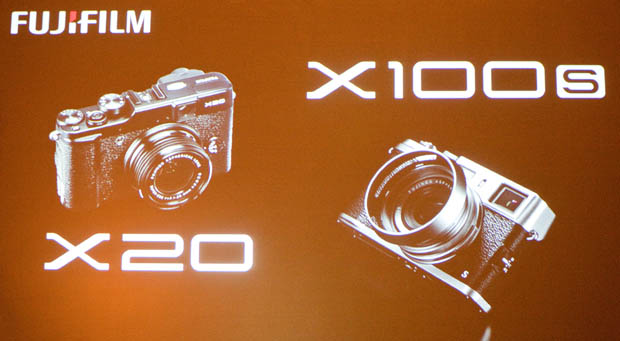 Fujifilm held its CES 2013 press conference yesterday, revealing some facts about the state of its camera business, sharing its vision moving forward, and offering a closer look at its two new fixed-lens cameras: the X100s and the X20.

One of the main takeaways from the presentation is that Fujifilm is intent on being a major player for "3rd category" cameras — that is, cameras that fit between DSLRs and smartphones.
It points to three main strengths a successful 3rd category camera must have in order to offer clear advantages to the other two categories: quality, style, and speed.
The company thinks it's uniquely qualified and equipped to meet these three needs. After all, the company has decades of experience under its belt and three proprietary technologies that address those issues: the X-Trans CMOS sensor, FUJINON lenses, and the EXR processor.
When launching the initial wave of X-Series cameras, including the X100, X-Pro1, X-E1, and X10, the company's main focus was image quality. Its goal was to offer small cameras that have IQ comparable to larger-frame cameras on the market.
The company was quite successful with its initial goals: the X-Trans sensor in the X-Pro1 and X-E1 have been widely praised in the industry for their low light performance and fantastic resolution.
On the other hand, one of the big gripes customers had with the cameras was that they were too slow in their operation and autofocus.
In response, this year's followup wave of X-Series cameras has a clear focus on speed. Many of the hardware and firmware improvements are geared toward making the cameras faster in autofocusing, continuous shooting, start-up time, and shutter interval.
These things are achieved thanks to the new X-Trans CMOS II sensor, which features new phase-detection pixels for snappier AF, and the new EXR Processor II, which makes many of the cameras operations much faster compared to the first generation processor.
Fujifilm USA's Director of Marketing, Kayce Baker, says that there are now roughly 130,000 Fujifilm shooters around the world, many of whom are offering feedback regarding the X-Series.
Many of the major improvements found in the new X100s and X20 are a direct result of Fujifilm listening to customer feedback regarding things they wanted to see in new cameras. (One of the big examples is focus peaking, which is present in both cameras).
In addition to becoming "the world's fastest autofocusing cameras" in their respective classes, the X100s and X20 are no slouches when it comes to IQ either.
Compared to its predecessor, the X100s offers 25% better resolution and 30% better signal to noise ratio. Its APS-C sensor quality is said to rival that of full frame sensors, and the benefits give it roughly one stop of quality gains in low-light situations.
There's also an intelligent hybrid AF system that can toggle between contrast and phase detection systems, and a new hybrid viewfinder with 100% coverage, 2.36 million dots, and improved glass elements for improved image quality.
The X20 still uses a smaller 2/3-inch sensor, but it has major improvements as well: 20% better resolution and 30% better S/N ratio compared to the X10. Its image quality reportedly rivals Micro Four Thirds sensors.
If you're familiar at all with the X100 or X10, you'll feel right at home using their successors. The cameras are pretty much unchanged in terms of built and design. They still feel solid in the hand (but light at the same time).
Fujifilm is also releasing a new photo book product called Superia photo books. These are extremely high-quality books that literally have photo paper as the pages (each page comprises two pieces of ultra-high-quality photo paper that are bonded together).
The company says it's trying to bring high end photo books down to the ordinary consumer market.
Finally, the company announced the pricing and availability of the two cameras. The X100s and X20 will cost $1300 and $600 (respectively) when they hit store shelves at the end of March 2013.