Should Photographs Captured in Zoos Be Considered Legitimate 'Nature' Pics?
National Geographic has announced the winners of its 2012 Photo Contest, which received over 22,000 entries from photographers around the world. The photograph above, captured by Ashley Vincent and titled "The Explosion!," was chosen as the Grand Prize winner and the top image in the "Nature" category.
It's a great capture, but there's one thing about it that may prove to be somewhat controversial: Vincent captured the photograph in a zoo.

Here's what the description of the winning image states on the Nat Geo website:
An Indochinese tigress named Busaba shakes herself dry after a swim at Khao Kheow Open Zoo in Chonburi, Thailand. Titled "The Explosion!" the photo was the winning entry in the 2012 National Geographic Photo Contest.

The Indochinese tiger—found in parts of Myanmar (Burma), Thailand, Laos, Vietnam, and Cambodia—is one of six tiger subspecies, all of which are endangered or critically endangered. It's estimated that only about 350 Indochinese tigers exist in the wild.
Over on his blog, travel photographer Brendan van Son writes that he feels insulted and disappointed that Nat Geo chose a photo of a captive animal as a winning "nature" photograph:
It's easy to look at this photo and just say "hey Brendan, it's a cool photo, get over it." However, what if the circumstances were slightly different? What if for example, one was to capture a white wolf then release it in a beautiful scene of white snow to photograph it? What if one was to bring in a freshly shot bull elk for that wolf to be photographed eating? Would you feel different about it then? Moreover, National Geographic is saying to its photographers out in the field, we don't really need you out there, just head to a zoo to get the wildlife shots you need.

If I were a National Geographic photographer, I'd be offended by this. A wildlife photographer spends entire days, from dusk to dawn sometimes, hiding out in the elements of nature, often putting themselves in danger, to get that one shot of true natural beauty. I have more respect for wildlife photographers than any others in the world, and I have to imagine this feels like a slap in the face to them.

What's next? We start staging conflicts to get really cool war photos?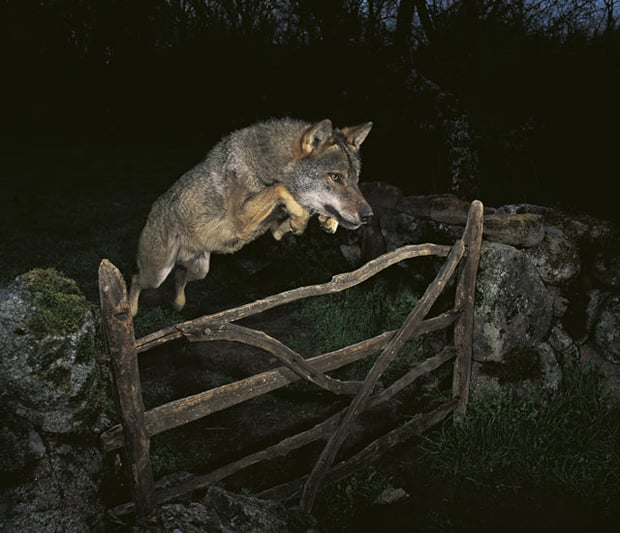 Back in 2010, a photographer was stripped of his prestigious wildlife photography grand prize win after it came to light that the wolf he had photographed was a captive animal.
The distinction, though, is that the photo above was submitted as a "Nature" photo and the wolf photo from 2010 was supposed to be a "Wildlife" photo.
The Winning Photo from National Geographic's Annual Contest Is from a Zoo? [Brendan van Son]
---
Update: Vincent has written up her own thoughts in the description of the photo over on 500px:
As it happens, while I know some photographers feel that pictures of captive animals are inferior to photos captured of animals in the wild, as wonderful as it is to see animals in their natural habitat, I've always thought this is a ridiculous way to think. A Tiger, for example, in captivity is every bit as awesome, amazing, and gorgeous as a Tiger in the wild; what I attempt to capture in my images is something of my subject's character and personality, as I believe it is these sort of engaging images that will have others feeling more of a connection with each individual subject, and perhaps for some people that connection will raise their levels of compassion enough to act on feelings that may eventually play some part in protecting and conserving the most vulnerable of Mother Nature's gifts.

I guess what I'm trying to say is, as wonderful as "wild" animal photography can be – and if you ever have the opportunity to go, say, on an African safari you really, really should – until such a dream opportunity comes along don't feel in any way disadvantaged because the only alternative you may have is to photograph captive animals. If you love animals and have a strong desire to capture engaging images of your favourites, find a place that cares well for their animals and invest as much time as you can getting to know your subjects and in honing your photographic skills.
---
Thanks for sending in the tip, Troy!
---
Image credit: Photograph by Ashley Vincent