EXIF Data May Have Revealed Location of Fugitive Software Tycoon John McAfee
If you've been following the news, you might have heard that a man John McAfee is on the run from police who want to question him about a murder. Not just any ol' John McAfee, but the John McAfee, the once-ultra-rich founder of anti-virus software company McAfee. Well, a photograph published to the web today may have revealed the exact location McAfee is was hiding.

Just to fill you in a little more on the story, police in the Central American country of Belize are seeking McAfee as a "person of interest" in the death of a man who was McAfee's neighbor. Although McAfee claims that he is innocent, he is currently in hiding due to his belief that the police will kill him if he is apprehended.
VICE magazine published a post today titled "We Are with John Mcafee Right Now, Suckers," bragging that its editor-in-chief Rocco Castoro and one of its photographers are currently embedded with McAfee as he runs from the law. Included in the post was the above photograph.
Alex Wilhelm over at The Next Web decided to take a peek at the photograph's EXIF data (which has since been wiped in the published photo on VICE). It turns out that the photo had its full metadata intact, revealing not just that it was captured using an iPhone 4S, but the exact location at which it was captured.
Here are some screenshots from regex.info showing the geotag info baked into the photo: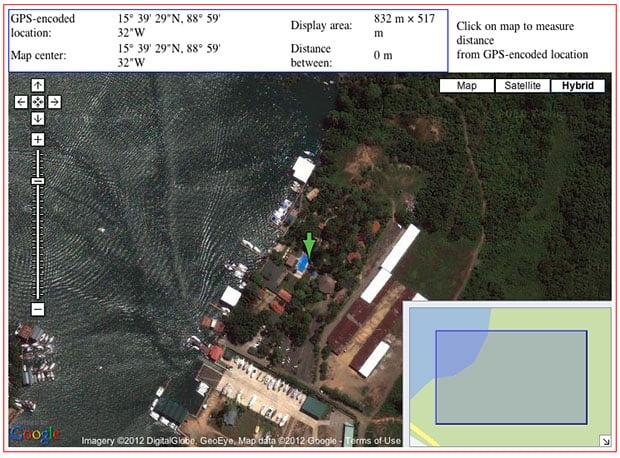 Based on the data, the photo was taken at a very specific place in Guatemala, at a complex with many buildings, cars, boats, and a pool.
The story gets stranger, though. Once this news broke, McAfee himself published a post on his personal blog, claiming that he had faked the EXIF data in the image in order to throw authorities off his trail:
I openly apologize to Vice Magazine for manipulating their recently published photo. I have been ferocioously put my place by Mr. Rocco for "interfering" with the objectivity of their reporting. I, for my own safety, manipulated the xif data on the image taken from my cellphone, and created a fake emrgency so that the urgency of movement led, as I knew it would, to the hasty posting on their website. I felt that our tenuous situation demanded action, and that was the action that I chose.

I do not believe that Vice will remain with me further. Again, my apologies.
Unless it was McAfee's iPhone and not the VICE employees', it seems unlikely that the programmer would have been able to secretly falsify the EXIF data between when it was shot and when it was uploaded.
Whether or not the EXIF data does show where McAfee was, he most certainly is not there anymore. We're guessing he's on the other side of the world by now.
---
Update: McAfee is now saying that the photo did give his position away (thx Jordan):
I apologize for all of the misdirections over the past few days. It was not easy to exit Belize and required many supporters in many countries. I am in Guatemala and will be meeting with Guatemalan officials this morning. If all goes well I will do a press conference tomorrow. Vice Magazine reporters are indeed with me in Guatemala. Yesterday was chaotic due to the accidental release of my exact co-ordinates by an unseasoned technician at Vice headquarters. We made it to safety in spite of this handicap. I had to cancel numerous interviews with the press yesterday because of this and I apologize to all of those affected.