Photog Shoots Tombstone Portraits for Subjects Who Are Very Much Alive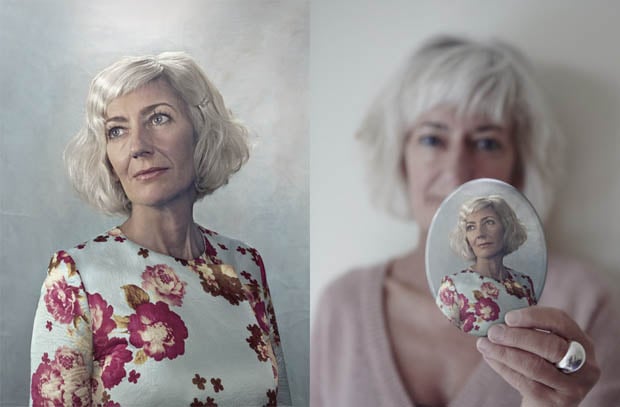 Belgian-based photographer Frieke Janssens received quite a bit of attention last year for her portrait series showing young children smoking (don't worry, they were faked), and now he's back with another unsettling photography project. This latest one is titled, "Your Last Shot," and consists of portraits of people that will one day be used on their tombstones. Each one is captioned with a name, a birth date, and a dash leading to an unknown date. The photo above is captioned, "Marcia (December 15, 1961 – )."

Janssens says that although no one likes to think about their own death, it's usually the case that their family members are left scrambling for useable photographs when they pass away. The question then becomes, "how would the deceased feel about this photo? Maybe he or she would have untagged themselves from it?"
Thus, Janssens wants to give people control over how they will be portrayed once they've departed. She states,
My personal preference goes to static portraits as they were taken at the occasion of weddings at the beginning of the 20th century. My aim is to make an iconic portrait that is beautiful, serene and fearless, preferably with a gentle smile, indicating that the model is clearly aware of the fact that this portrait will be used for a very long time to come.

[The project isn't sinister], life and death are inevitably linked. In Belgium there still seems to be a taboo around the thought of death. As a photographer, I feel that the moment when one reflects about their own death is a precious moment to be shared and portrayed.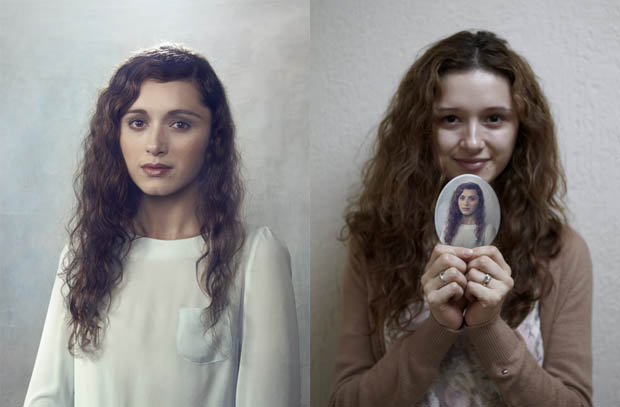 Janssens is offering "Last Shot" portrait sessions that include the shoot itself, make up, assistance, styling, and post-production. Finished portraits are given to the customer as oblong porcelain discs. The cost? ~$1060 plus tax.
A tagline on the official website explains, "Your last shot will not be your cheapest shot, but hey…you only live once."
Something tells us tombstone photography won't be seeing the same kind of growth as military homecoming photography. It's an interesting idea, though… If you could have one portrait summarize your entire life for passers-by, how would you want to be portrayed?
Your Last Shot by Frieke Janssens (via HuffPo)
---
Image credits: Photographs by Frieke Janssens and used with permission