MagFilter Uses Magnets to Give High-End Compacts Some Filter Love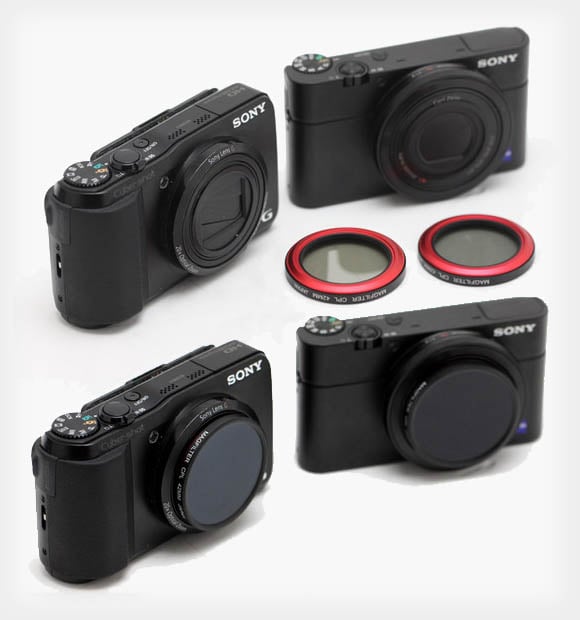 Compact cameras are becoming pretty serious photography tools when it comes to sensor sizes and lens qualities, but one thing they generally lack is an easy-to-use filter system. Interchangeable-lens photographers can usually just find a filter of the correct diameter and use it with their lens, but things get more complicated when you're dealing with fixed-lens cameras. Although using filters is possible with some models, the systems aren't very friendly: they're usually proprietary, expensive, or based on unwieldy adapters.
That all changes with the new MagFilter by CarrySpeed, an easy-to-use filter system for compact cameras based on magnets rather than threads.


Each MagFilter filter comes with two components: a metal ring and the filter itself. Prepping your camera for the system involves sticking the metal ring (there's adhesive on one side) onto the end of your compact camera's lens. Once the ring is in place, attaching the filter is as easy as bringing it close to your lens — the strong magnet will click the filter into place.
Here's a video by CheesyCam that introduces the system and shows how it works:
There are currently two sizes (42mm and 36mm) and one flavor (circular polarizer) available. The larger size is compatible with cameras like the Sony HX9V, HX10V, HX20V, HX30V, and RX100. The smaller one works with cameras like the Canon S95 and S100. New sizes and flavors are on the roadmap as well: CarrySpeed says that a neutral density filter is on the way. They're even working on a version of the system for DSLR photographers.
The 36mm filter is priced at $25, and the 42mm is priced at $27. You can pick one up on Amazon or directly from CarrySpeed.