102 Autofocus Points on Sony A99 Only Compatible with 6 Lenses At Launch
When the Sony A99 SLT was announced last month, photographers gawked at the camera's 102-point focal plane phase-detection system that compliments its traditional 19-point AF system. If you've been drooling over the idea of using 121 separate focus points, here's some bad news: the feature may not be compatible with your Sony lens.
The Phoblographer reports that only 6 lenses will be able to take advantage of the new system when the camera is launched later his month.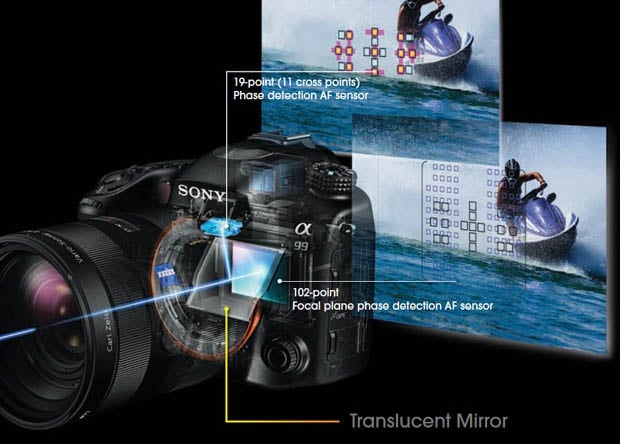 Poke around on the Sony A99 website, and you'll discover this to be true. Just take a look at the Features page, and check out what the company says about the new AF-D system:
This highly advanced Continuous AF mode uses 19 AF points with reliable depth-direction focusing performance to steadfastly capture subjects and is strongly assisted by the 102-point multi-point focal-plane phase-detection AF sensor. It continues to accurately focus on the subject whether the subject is moving in depth or plane direction4.
Notice the superscript? Here's what it points to at the bottom of the page:
4. Note that at the time of launch the following lenses support AF-D: SAL2470Z, SAL2875, SAL50F14, SAL300F28GII, SAL70400G, SAL50050F4G.
So unless you have one of these six Sony lenses, you'll need to live with the much more pedestrian 19 points and wait for Sony to bring compatibility to your lenses.
Although Sony is saying that it will bring compatibility to a broader selection of lenses through a future firmware update, no timeframe has been given yet.
Sony scored a big win here by having the ginormous number of AF-points widely publicized without much mention of the limited compatibility. Whether or not it's worth buying a compatible lens for remains to be seen, but in the end, how many AF points does a photographer really need?