The Booths of Major Camera Companies at Photokina 2012
Photokina 2012 came to an end in Cologne, Germany today. If you weren't able to make the show this year and are wondering what the show was like, we've collected some photos of the fancy booths set up by major camera makers. Hopefully they can provide you with a glimpse of how the big brands went about showing off their latest and greatest wares.
The photo above shows the gigantic photo globe found between two of the halls. Called "the world's largest photo globe", it measures over 19 feet in diameter and was created as a collaboration between companies in the Photographic Industry Association.

Canon
The entrance to Canon's section was hard to miss. It did a lot with the architectural design of its space, with massive red blocks hanging overhead.
Fujifilm
Fujifilm's booth — especially the X-Series stand — was quite popular. Even company representatives said that they were surprised at the turnout.
Kodak
Kodak may be down, but it's definitely not out. It had a pretty respectable booth at the show this year through which it showed off its new emphasis on printing technologies.
Leica
While all the other camera companies — even the big ones — shared the massive halls of the Cologne Exhibition Center with other brands, Leica had an entire hall all to itself. Half of it was for showing off gear, and half was for a massive photo exhibition.
Nikon
Nikon had a cool photo heart spinning around in the middle of its space. A stage to one side with "I AM" branding had a number of presentations around the clock, including by Carli Davidson.
Olympus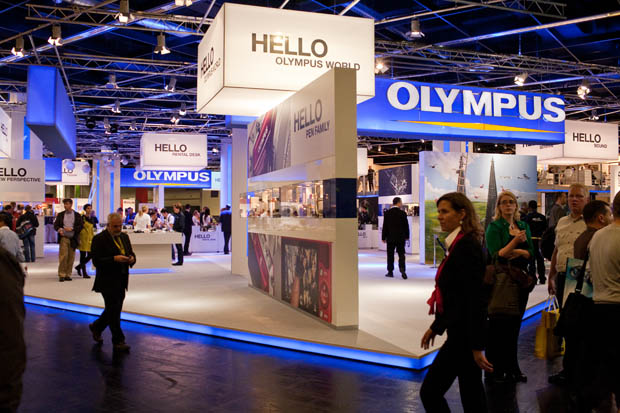 Panasonic
Pentax
Samsung
Sigma
Sony
A large part of Sony's booth had a "jungle" theme to it.
---
It was a blast covering the show this year, and we still have some stuff from the show that'll be shared shortly. We hope you enjoyed this behind-the-scenes look at Photokina 2012!