Hands-on with the New Canon 6D Entry-Level Full Frame DSLR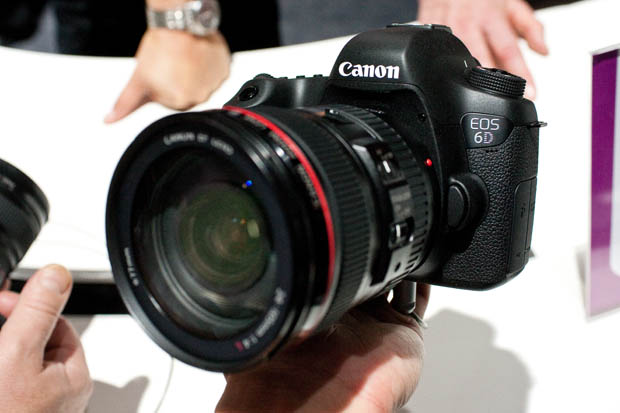 Canon's new 6D is the company's attempt to make full frame photography more affordable and accessible to more photographers. Our initial impression of the camera is exactly what the company is boasting about: that it's small and light. The camera's lightness makes it feel much more Rebel-y than its beefier full-frame siblings, but at the same time it doesn't feel cheap. It's not simply a full frame sensor stuffed inside a Rebel body. Canon has chosen to use magnesium alloy for key parts of the camera, giving it strength where needed, while using lighter materials for other parts to reduce the weight.

If you're already shooting with a full frame Canon body, you probably won't notice much difference in the way the camera behaves — you'll just be struck by the fact that it's noticeably lighter. If you're currently on a crop sensor camera and would like to jump to full frame on the (relative) cheap, the 6D feels like a very worthy upgrade.
The back of the camera has less options and dials than the 5D Mark III. Missing is the thumb controller used to select an AF point with one directional push:
The top of the camera is very similar to the 5D Mark III, but has some minor differences. The mode dial lacks a third Custom Mode but gains a "CA" (Creative Auto) mode. Instead of having Autofocus and Drive combined into a single button on the right side, the 6D features separate buttons for those settings. There also isn't a Multi-Function button (M.Fn) next to the shutter:
Aside from the spec and relatively minor design differences, the Canon 6D fits right into the new niche carved into the Canon DSLR lineup.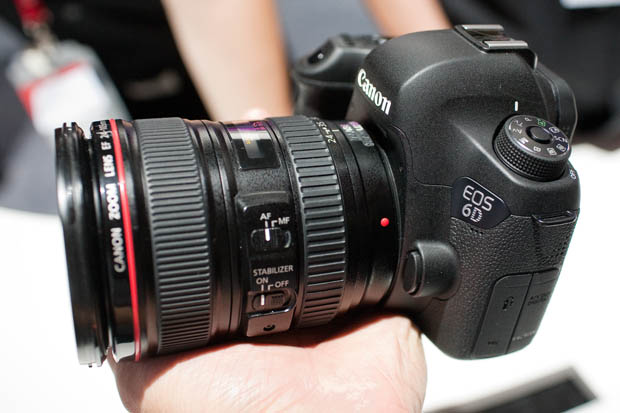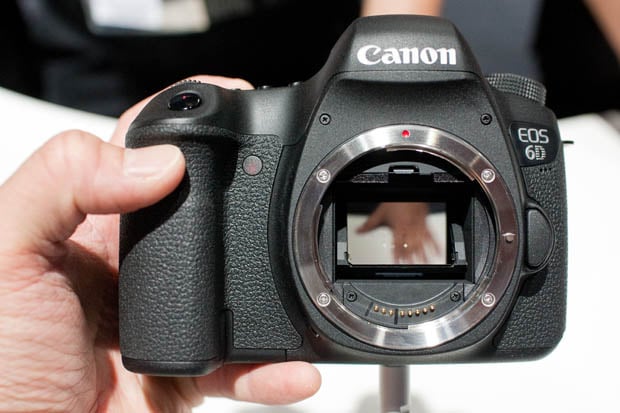 The camera's viewfinder is large and bright — one of the big benefits of shooting full frame — and the 4.5 frame per second continuous shooting rate is pretty nice:
As long as the image quality of this camera is equal with the quality of other full frame DSLRs, this camera should be a serious consideration for those looking to jump into full frame for the first time. Pointing to the fact that the 5D Mark II currently sells for cheaper isn't quite fair, since that camera has had plenty of time to see price drops since it was announced back in 2008.
When compared head to head with the 5DMkII, the 6D offers some nice advantages: a much higher maximum ISO (51200 vs 6400), a larger LCD screen (3.2-inch vs 3), HDR, GPS, faster in startup/shutter lag/fps, and more portable.
In the end, your choice will likely be determined by the price of the cameras at the time of purchase, since both the 5D Mark II and 6D seem to be worthy "entry-level" full frame options.