How to Secure a DSLR When Shooting from Great Heights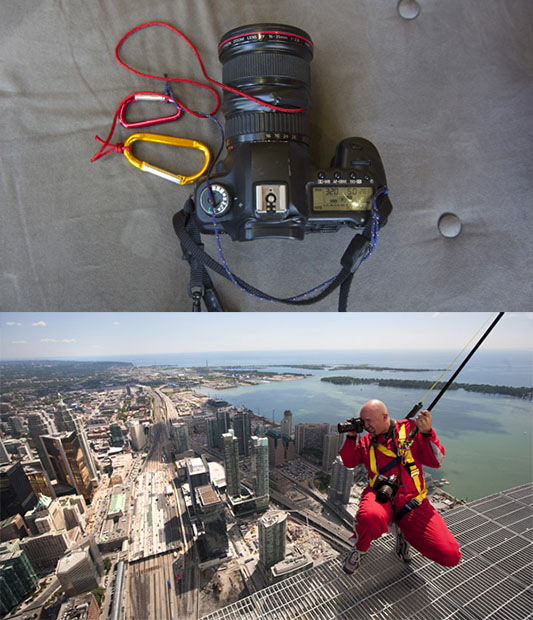 When we shared the practice of "rooftopping" (climbing to the tops of skyscrapers and taking pictures from the edge) a couple days ago, some commenters pointed out that accidentally dropping your camera could kill someone on the ground. Well, Reuters photographer Mark Blinch had a "rooftopping" adventure of his own recently at the CN Tower in Toronto, which just launched an attraction called "EdgeWalk" that lets you walk hands free 356m (1,168ft) off the ground. Blinch describes how the crew secured his gear:
The morning started when the tower's safety personnel attached all manner of clips and cables to my cameras so they could fasten them securely to the bright red jumpsuit they gave us to wear. I brought up a Canon 5d Mark II with a 16-35 wide zoom, and a Nikon D3s with a 24-70. The memory card slots, eyepiece, and battery doors of both cameras were all taped down to make sure nothing fell off. I have dropped a camera maybe once or twice in my life, and I knew this wouldn't be the time to have an accident.
If you're planning on doing any kind of photography where butterfingers could kill more than your camera, you might want to try this method of tape, clips, and cables.
Teetering on the edge [Reuters]
---
Image credits: Photographs by Mark Blinch/Reuters and used with permission