5 Tips for Reselling Your Camera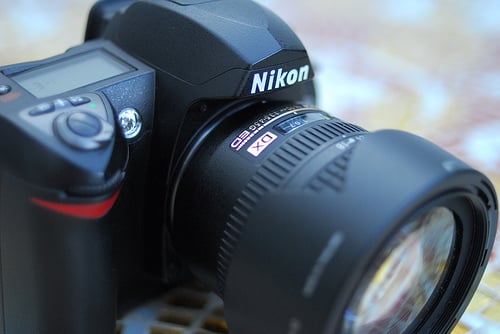 If you are upgrading your camera gear, horray for you! That also means you're probably planning to convert your old camera to cash for new gear or at least to free up room in your camera bag.
Camera bodies are probably the most difficult piece of photo equipment to sell, since new bodies and technology are released very frequently. They lack the longevity of lenses and depreciate over time.
We've posted a few previous tips about buying used DSLR gear and buying pro camera gear on a student budget, but now we'll shift gears to the seller's standpoint.
1. Think local — really local.
Selling your own camera gear can feel a little like selling an old project car. It's easy to become sentimentally attached, and you want to make sure it goes into good hands.
Before posting your gear advertisements anywhere, see if anyone in your immediate social circle is interested in buying. Co-workers or fellow students tend to be a good bet. When I was working at my college paper, a lot of photo department staff would sell gear to each other, with the comforting reassurance that their equipment would be put to good use. There is also an added level of trust within colleagues, since they already know you and you'll spend less time having to convince them that what you're selling is in good condition.
Craigslist, when used with caution, is also a good way to find local buyers. Be wary of scams, though — a lot of falsely interested "buyers" might email you with a strange proposal. I've gotten a few generic emails from people interested in "the item," offer a higher payment via PayPal, and then ask you to ship it to some remote relative in Africa. Yeah, right.
If you do find a real, local buyer on craigslist, do be careful. Propose to meet in a safe, public place during the day, and bring a friend or two along for added security. Cash is always most reliable, as well. It might be a good idea to meet near your bank, so you can safely stow your cash after you've made a sale.
2. Advertise the basics.
You don't need to go into detail about small wear and tear that you notice, or anything beyond the camera's model and maybe highlight some important technical specifications like megapixels and frames per second.
It is helpful to post a link with more detailed camera specs, either from the manufacturer's site or dpreview.com, for the buyer's convenience.
But the bottom line is to cut to the chase and don't let your advert be hunkered down by unnecessary details.
Just tell them, it's a Nikon D200. 10 megapixels. 5 fps. Excellent condition. Body specs here.
The less you tell prospective, but serious buyers, the more they might want to respond to your ad with questions. Once you begin a discussion with them, that's your chance to answer more detailed questions they might have.
3. Don't include more than you have to in the box.
Naturally, you'll need to include a battery, charger, and other accessories that came with the camera body, but avoid including interchangeable accessories that you might use in the future.
Michael mentioned in his gear on a student budget post that he made the mistake of including a high-end B&W filter with a lens he sold, but later realized he still needed it.
Hang on to those memory cards and filters.
4. On the other hand, you'll have a better chance of selling it if you bundle it with a lens.
Though this is a bit of a contradiction to the previous tip, but buyers will be much more interested in purchasing a used body if it comes with a lens.
You probably will not make as much back on the resell, but if the market is dry and people just aren't interested, a lens can add a great deal of buyer incentive.
However, whether you need to include a lens or not really depends on what kind of camera body you are selling.
If you are selling a professional body, chances are, your buyers will be pros as well, and are likely to have their own lenses. In this case, there's no need to include a lens.
If you are selling a lower-end DSLR, like a Nikon D40 or a Canon Rebel, prospective buyers are probably newer to photography, and will likely be looking for a bundle kit.
There's really no need to K.I.T. with your kit lens, especially if you're selling the body it came with. Ask yourself: are you really likely to attach that plastic 18-55mm f/3.5-5.6 on your brand new D3x? Probably not.
Selling kit lenses alone is pretty pointless as well; brand new, they're worth less than $150.
Instead, include it with the body you've got up for sale, and readjust your price. Be sure to check the street value of your bundle on eBay and craigslist.
5. Include your own photos of your gear on your advertisement.
If you provide photos with your advertisement, people are more likely to click on your posting. Additionally, if those photos are noticeably different from the standard manufacturer's product shots, they can add to a feeling of authenticity and openness on the seller's side. Also, when you post attractive product photos, the photos can imply your own skill as a photographer, and can give you more clout as a camera seller.
Conclusion
Understand the buyer's standpoint when selling. Check out Michael's posts on buying used DSLR gear and buying pro camera gear on a student budget. Don't sell yourself short, but be aware that you may need to make some concessions in order to make your gear marketable.
Finally, if you've got any additional tips on selling gear, feel free to share it with us!
---
Image credits: D70s by salimfadhley, Hoya Filter and Wine Bottle by davidgsteadman, 18-55mm kit lens by Manchester-Monkey, and My new camera by Catherinette Rings Steampunk